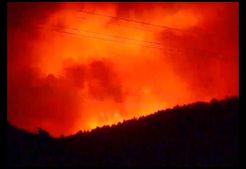 Larimer County, Colorado -The High Park Fire is now at 20,000 acres and growing, with zero percent containment.
Just after 8 p.m. Sunday night 325 evacuation order notifications were issued for the area south of County Road 38E from Gindler Ranch Road west to Milner Ranch Road. The High Park Fire is moving rapidly in this direction. 325 were sent out.
Photo: Slide Show
Photo Gallery:
Photos: High Park Fire outline
Video:
High Park Fire now 20,000 acres
Video:
Evacuees of High Park Fire speak out
Video:
Red Cross offers ways people can help fire vicitms
The following evacuation orders were sent out earlier Sunday:
Just after 5 p.m. Sunday afternoon Larimer County sent out 24 new evacuation notifications to homes along Crystal Mountain Road and Upper Buckhorn Road.
Larimer County sent out 326 additional evacuation orders for the area north of county road 38E from Horsetooth Reservior to Redstone Canyon to Lory State Park.
Larimer County also sent out 69 evacuation notifications for Buckhorn Road, from CR27 to Pennock Pass, and residents approximately one mile to the south. Buckhorn evacuees should exit the area by going east on Buckhorn Road.
Evacuation orders were also issued for the Bonner Peaks Subdivision Residents, who will need to exit the area using Owl Canyon Road.
Evacuations were also ordered for County Road 29C and McMurray Ranch Road residents.
More than 2,000 emergency notifications were sent out Saturday and Sunday.
The shelter set up at Cache La Poudre Middle School closed Sunday night due to smoke. The shelter has moved to the Ranch, along I25/Cross Boulevard, between Loveland and Fort Collins.
Large animals and livestock can be taken to the Ranch at I24 and Crossroads. Small domestic animals can be taken to the Larimer County Humane Society.
One person is confirmed missing from a home destroyed by High Park Fire.
In addition, more people are believed to be missing, Gov. John Hickenlooper said during a Sunday press conference.
According to Hickenlooper, the High Park Fire was estimated at more than 20,000 acres on Sunday. It remains at zero percent containment.
At least 18 structures were lost or damaged due to the fire with more threatened.
"It's pretty tough, people have lost their homes and everything they owned," Hickenlooper said. "Their world is very different than it was a day ago."
Evacuation notices were sent to the areas south and west of Bellvue, including the Lory State Park area, Redstone Canyon and Buckhorn Road to the Stove Prairie School.
Earlier Sunday morning, residents from County Road 27E to Bellevue were notified that they were being evacuated.
Late Saturday night 177 notifications were sent for Poudre Canyon from mile marker 111 to mile marker 118 on Highway 14. The Poudre Canyon from Ted's Place to Stove Prairie Road is under a mandatory evacuation order.
The following areas were also evacuated Saturday: Moose Horn Lane, Magic Lane and Spencer Mountain Road, Paradise Park Road and Stove Prairie Road, north to Rist Canyon Road, east to Spring Valley Road and south to include the Tip Top Road area.
Old Flowers Road was evacuated from Stove Prairie Road to the 8000 block of Old Flowers.
Large animals from evacuation areas may be taken to the Ranch at I-25 and Crossroads Blvd. Small animals and pets can be taken to the
Larimer Humane Society
.
View map of fire perimeter here
An evacuation center was set up at Cache La Poudre Middle School at 3515 West County Road 54G in Laporte. American Red Cross is responding to the Cache LaPoudre School Gymnasium to open an evacuation center in Larimer County.
The evacuation center at the McKee Building closed Sunday afternoon. All evacuees are asked to go to Cache La Poudre Middle School in Laporte.
The High Park Fire was first spotted at around 6 a.m. Saturday. Crews had to hike through difficult terrain to first reach the area.
The cause of the fire is unknown at this time.
The Governor also spoke about the dry conditions in Colorado. He said there's a possibility of larger fire bans and restrictions for the Fourth of July holiday.
Resources:
Larimer County High Park Fire information line 970-498-5500
Follow Twitter hashtag #HighParkFire
Follow @LarimerSheriff or @LarimerCounty on Twitter