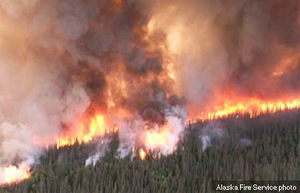 With
lightning strikes peaking
in June, it's no wonder that the first month of summer is typically Alaska's most active wildfires. This June is no exception.
According to the
Alaska Interagency Coordination Center (AICC) Situation Report for Friday
, in the last week six new fires have added to the already 30 actively burning throuout the state.
The newest fires are all the result of lightning strikes. The center estimates some
280 lightning strikes
have been spotted in the last week, bringing the total 2012 summer strikes to 8,675.
Fire personnel are fighting the Otter Creek fire near the Northwest Alaska village of
Kiana,
the largest in the state. Smokejumpers have been deployed and air attacks are in progress. The fire is 25 percent contained, but continues to grow.
For more on statewide fire activity
click here
. And to view pictures of KTUU's coverage of active fires, click
here
.