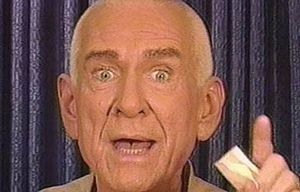 One of the more offensive duties of being an investigative journalist is
taking out the trash
-- exposing liars, fraudsters, con artists and scammers for the people they truly are. Each time we investigate a sociopath, we find that they always have a little cult group following of spellbound worshippers who consider that particular sociopath to be a "guru" or "prophet."
Sociopaths are masters at influence and deception. Very little of what they say actually checks out in terms of facts or reality, but they're extremely skillful at making the things they say sound believable, even if they're just making them up out of thin air. Here, I'm going to present quotes and videos of some legendary sociopaths who convinced everyday people to participate in mass suicides. And then I'm going to demonstrate how and why similar sociopaths are operating right now... today.
Why cover this subject? I've seen a lot of people get hoodwinked, scammed or even harmed by sociopaths, and it bewilders me that people are so easily sucked into their destructive influence. I want to share with NaturalNews readers
the warning signs
of sociopaths so that you can spot them, avoid them, and save yourself the trouble of being unduly influenced by them.
Much of this information is derived from the fascinating book,
The Sociopath Next Door
, which says that 4% of the population are sociopaths. The book is a fascinating read.

Comment: While Mike Adams is using 'sociopath', a more accurate term is 'psychopath'. Although there are similarities between the two conditions, psychopathy is more relevant to most of the characteristics described in the article. See Robert Hare's work Without Conscience or Snakes in Suits for more information.


10 signs for spotting a sociopath
#1) Sociopaths are charming. Sociopaths have high charisma and tend to attract a following just because people want to be around them. They have a "glow" about them that attracts people who typically seek guidance or direction. They often appear to be sexy or have a strong sexual attraction. Not all sexy people are sociopaths, obviously, but watch out for over-the-top sexual appetites and weird fetishes.
#2) Sociopaths are more spontaneous and intense than other people. They tend to do bizarre, sometimes erratic things that most regular people wouldn't do. They are unbound by normal social contracts. Their behavior often seems irrational or extremely risky.
#3) Sociopaths are incapable of feeling shame, guilt or remorse. Their brains simply lack the circuitry to process such emotions. This allows them to betray people, threaten people or harm people without giving it a second thought. They pursue any action that serves their own self interest even if it seriously harms others.
#4) Sociopaths invent outrageous lies about their experiences. They wildly exaggerate things to the point of absurdity, but when they describe it to you in a storytelling format, for some reason it sounds believable at the time.
#5) Sociopaths seek to dominate others and "win" at all costs. They hate to lose any argument or fight and will viciously defend their web of lies, even to the point of logical absurdity.
#6) Sociopaths tend to be highly intelligent, but they use their brainpower to deceive others rather than empower them. Their high IQs often makes them dangerous. This is why many of the best-known serial killers who successfully evaded law enforcement were sociopaths.
Comment:
Psychopaths may have a special knowledge about how to manipulate humanity, but their IQ has been found to be below average. Andrew Lobaczewski, author of
Political Ponerology
writes,
The average intelligence of the psychopath, especially if measured via commonly used tests, is somewhat lower thanthat of normal people, albeit similarly variegated. Despite the wide variety of intelligence and interests, this group does not contain examples of the highest intelligence, nor do we find technical or craftsmanship talents among them.
Take a wild guess who might of spread the idea that psychopaths have high IQs.
#7) Sociopaths are incapable of love and are entirely self-serving. They may feign love or compassion in order to get what they want, but they don't actually FEEL love in the way that you or I do.
#8) Sociopaths speak poetically. They are master wordsmiths, able to deliver a running "stream of consciousness" monologue that is both intriguing and hypnotic. They are expert storytellers and even poets. As a great example of this in action, watch
this interview
of Charles Manson.
#9) Sociopaths never apologize. They are never wrong. They never feel guilt. They can never apologize. Even if shown proof that they were wrong, they will refuse to apologize and instead go on the attack.
#10) Sociopaths are delusional and literally believe that what they say becomes truth merely because they say it! Charles Manson, the sociopathic murderer, is famous for saying, "I've never killed anyone! I don't need to kill anyone! I THINK it! I have it HERE! (Pointing to his temple.) I don't need to live in this physical realm..."