N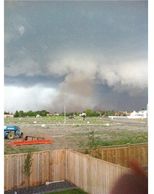 o injuries but toll includes downed power lines, countless trees, smashed windows, minor flooding, torn-off shingles
Cam Cleland watched helplessly from his brick farmhouse as 25-metre-tall poplar trees were snapped over like dominoes as a tornado passed through the region Tuesday night.
Located seven kilometres south of Taber, his property would have likely been in direct line of the tornado that pulverized the southern Alberta town.
"I'm just glad it didn't snap all the big ones that would have fallen on my house," Cleland said Wednesday, adding 20 to 25 trees were knocked over in total.
Across southern Alberta, there were reports of severe weather that included strong winds, flash flooding, golf ball-sized hail and three unconfirmed reports of tornadoes near Brooks, Bow Island and Vulcan.
However, Taber was clearly the hardest hit.
In town, the damage included four or five downed power lines, countless trees, smashed windows, minor flooding and torn-off shingles.
No one was reported injured in the storm.
Barnwell, located near Taber, had 56.5 millimetres of rain on Tuesday night.
Environment Canada confirmed Wednesday that a tornado hit around eight kilometres south of Taber at 8:42 p.m. Tuesday.
Cleland had just returned home from his son's baseball practice when he saw the clouds growing increasingly darker.
There was the calm before the storm, then the clouds started lowering in the sky and it went pitch black outside.
Southwest winds started blowing in, reaching 70 or 80 km/h, he said.
"The wind wasn't pushing the trees over. It was snapping, lifting, then dropping them," he said.
The storm knocked power out for about 3,000 residents overnight.
One building of note was destroyed near town.
The Porter Tanner Associates hay storing facility four kilometres west of town had its roof blown off, with an employee of the family-run company saying it will likely need to be torn down and rebuilt.
"It's definitely not a good thing," said Nelson Porter, adding no one was in the building at the time.
The severe weather storm developed over Montana, which had its own reports of hail, strong winds and a tornado.
"It was a very unstable air mass over Montana and southern Alberta," said Environment Canada meteorologist Bill McMurtry.
"As the Montana system moved northward, it tapped into the energy available over southern Alberta. There was an unstable air mass but, more importantly, the humidity was quite high and that's one of the more important ingredients for severe weather."
It's too early to categorize how strong the tornado was that hit Taber, McMurtry said.
Hail hit other parts of southern Alberta, but Jamie Puchinger of Alberta Agriculture and Rural Development said she had not heard of any reports of crop damage caused by the storm.
The tornado touched down at 8:42 p.m. - a peculiar time, according to Environment Canada. The other three unconfirmed tornadoes hit between 10:30 and 11:05 p.m.
"They can happen (in the evening) but most of them happen late afternoon, early evening," McMurtry said.
Spokespeople with RCMP detachments in Brooks, Bow Island and Vulcan all confirmed there was no severe damage in their jurisdictions.
All in all, though, Taber residents admit it could have been a lot worse.
"It's safe to say we dodged another bullet last night," said Taber Mayor Ray Bryant.