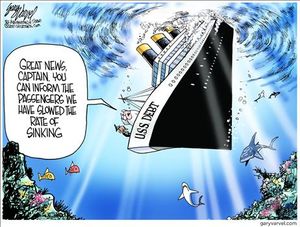 A gloomy U.S. jobs report and signs of a global economic slowdown hammered Wall Street Friday, wiping out the stock market's gains for 2012 and leaving investors wondering where to turn.
The Dow Jones industrial average sank 275 points
, or 2.2 percent, chalking up its biggest one-day drop in more than six months.
Market participants had expected to see a mildly negative employment report Friday, but they "hadn't discounted the kind of numbers we saw this morning," Barton Biggs, a hedge fund manager at Traxis Partners, told CNBC Friday.
Biggs also warned that the chance of a "mild double-dip recession" is now about 40 percent.
"I'm not that bearish about the economy and the market, but am I ready to step in in a big way? No," he said.
Friday's jobs report from the Labor Department showed U.S. employers created only 69,000 jobs in May, the fewest in a year, as the nation's unemployment rate rose to 8.2 percent from 8.1 percent in April -- the first increase in 11 months.
The government also said the economy created far fewer jobs in the previous two months than first thought, revising numbers down to show 49,000 fewer jobs created.
Friday's steep market drop spooked investors. The VIX index, a measure of investor fear, rose to levels not seen in five months. And the value of government bonds and gold soared as investors sought safe places to park their money.
The weak U.S. outlook added to a growing global sense of gloom. New data from the euro zone Friday showed unemployment the region was 11 percent in April -- the highest level since records began in 1995. And there are signs that manufacturing in China -- a driver of global growth in the recession -- is slowing.
Many had looked to the U.S. as a bright spot of growth in the global economy, but Friday's jobs report added more evidence to the view that growth in the U.S. is slowing, suggesting weaker corporate earnings ahead and weighing on stock prices.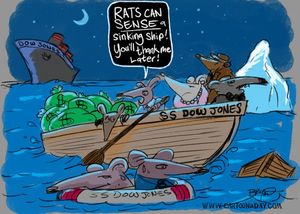 Stocks saw their worst month in two years in May, ending more than 6 percent lower, as investors worried about Europe's ongoing debt crisis.
The downturn in the aggregate U.S. market has shaken some $1 trillion out of investors' pockets
.
Investors will have to put up with more uncertainty in June, analysts say, as the fate of the euro zone waits to see the outcome of Greece's elections on June 17.
Greece, which unleashed the financial turmoil in the euro zone, will go to the polls for a crucial second election on June 17 that may determine whether it remains a member of the currency union. Investors are concerned about the unknown consequences of a Greek exit, concerned that it may precipitate the disintegration of the euro zone.
Despite the market downturn Friday and global economic fears, Peter Sorrentino, senior portfolio manager at Huntington Asset Management, counsels that investors can still find value in the market.
"We're seeing stock prices back down where they were at the beginning of the year, but
earnings are still there
," he told CNBC, noting that company balance sheets are very strong, as investors have spent years paying off debt and
raising cash to record levels
.
Sorrentino added that, after Friday's downturn, bargains can still be found in the agriculture and energy sectors.
Oil prices took a dive below $100 Friday as traders bet that a slower global economy would reduce demand for energy.