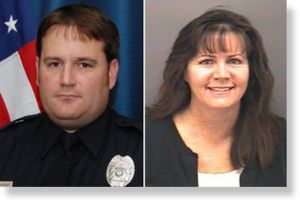 A Culpeper police officer was indicted Tuesday on a charge of murder in connection with the fatal shooting of a female motorist during a confrontation earlier this year.
The indictment, handed up by a special grand jury, is highly unusual. There have been few cases in the United States in which an officer has faced so serious a charge in connection with actions taken on duty.
In addition to the murder charge, the special investigative grand jury indicted the officer on three other counts: malicious shooting into an occupied vehicle, malicious shooting into an occupied vehicle resulting in a death and use of a firearm in commission of a felony.
The woman was identified as Patricia A. Cook, 54, of Culpeper, and the officer as Daniel Harmon-Wright, 32, of Gainesville.
In an unusual twist, the officer's mother was indicted Tuesday on three counts of forgery of public documents. Virginia State Police said evidence had come to light concerning efforts by the woman, Bethany P. Sullivan, 56, of Orange, Va., to purge negative information from her son's personnel file. She had been a Culpeper police employee but left in 2010.
The charges against the officer stem from an encounter between him and Cook on Feb. 9 in Culpeper, a town of a little more than 16,000 about 70 miles southwest of Washington.
A statement issued Tuesday by state police said that during the incident, "the officer became engaged with" the driver of a Jeep Wrangler. "During the encounter," police said, Cook was shot, and she died at the scene.
In an interview Monday night, Cook's pastor, the Rev. Randy Orndorff of Culpeper United Methodist Church, said he had talked with family members about what happened and had seen reports in the news media.
For reasons that have not been determined, Orndorff said, Cook was apparently parked in the lot of a Catholic church. That apparently prompted a call about a suspicious vehicle. When she was asked to provide her license and registration, the pastor said, it was reported that Cook rolled up her window and began driving away.
"The story was [the police officer] got his arm caught" in the window "when she rolled it up," Orndorff said. It has raised the question, he said, as to whether the officer was dragged by the moving vehicle, possibly causing him to believe that his life was in jeopardy.
A story this month in the
Culpeper Star-Exponent
quoted a lawyer as saying he would defend the officer in "whatever came up." The newspaper said the lawyer denied in a blog post that the officer claimed to have been dragged. But he was also quoted as calling the matter "pretty much a clear case of self-defense."
Neither the officer nor Cook's husband could be reached Tuesday night.
Orndorff said Cook worked with children at his church, and volunteered with cooking and making quilts for the needy.
Calling the matter tragic, Town Manager Kimberly Alexander said the officer had been on paid leave but is now suspended without pay.
Noting that state police had done the investigation, she said town officials "really don't" know what happened and are waiting to hear the evidence.
Jim Fisher, the Fauquier County commonwealth's attorney, was special prosecutor in the case. Police quoted him as saying the grand jury heard from more than 45 witnesses and received a good deal of other evidence.