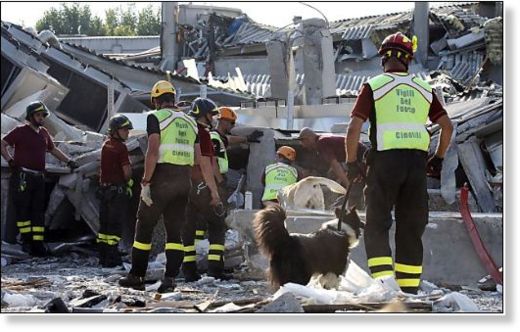 San Felice Sul Panaro, Italy - Workers at the small machinery company had just returned for their first shift following Italy's powerful and deadly quake earlier this month when another one struck Tuesday morning, collapsing the roof.
At least three employees at the factory - two immigrants and an Italian engineer checking the building's stability - were among those killed in the second deadly quake in nine days to strike a region of Italy that hadn't considered itself particularly quake prone.
By late Tuesday, the death toll stood at 16, with one person missing
: a worker at the machinery factory in the small town of San Felice Sul Panaro. An
estimated 350 people also were injured in the 5.8 magnitude quake north of Bologna in Emilia Romagna
, one of Italy's more productive regions, agriculturally and industrially.
Factories, barns and churches fell, dealing a second blow to a region where thousands remained homeless from the May 20 temblor, much stronger in intensity, at 6.0 magnitude.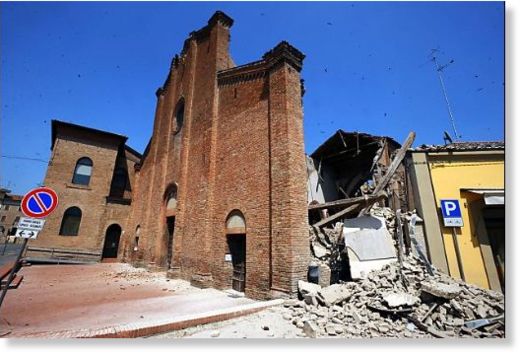 The area encompassing the cities of Modena, Mantua and Bologna is prized for its production of expensive cars, churning out Ferraris, Maseratis and Lamborghinis; its world-famous Parmesan cheese, and less well-known but critical to the economy: machinery companies.
Like the May 20 quake, many of the dead in Tuesday's temblor were workers inside huge warehouses, many of them prefabricated, that house factories.
Seven people were killed in the May 20 quake. In both, the dead were largely and disproportionately workers killed by collapsing factories and warehouses.
Premier Mario Monti pledged that the government would quickly provide help to the area "that is so special, so important and so productive for Italy."
Source:The Associated Press