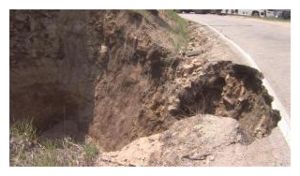 Central City, Colorado - A massive crater alongside the road in between the cities of Black Hawk and Central City has traffic moving along a bit slower than usual after crews had to close a lane.
The sinkhole happened at the end of Gregory Street just east of Central City. The asphalt on the side of the road gave way to a small cavern early Saturday morning. By midday the cavern had turned into a crater.
Officials said an old mine shaft caved in. There's some speculation that recent, heavy rains and heavy Memorial Day weekend traffic may have been a contributing factor.
The shaft is about 30 feet wide by 50 feet deep. Crews will fill it in with large rocks and then add filler to the rock for stabilization.
Experts say such collapses aren't uncommon in Gilpin County.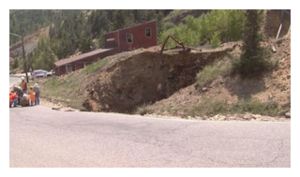 "It's known for being one of the richest square miles on Earth, maybe in the United States. I mean this place was hopping back in the early 1900s," Deb Zack with the Division of Reclamation, Mining, & Safety said.
Crews don't believe that the shaft continues under the road but they'll be keeping a close eye on the spot.
Traffic will be down to one lane in the small section in between the two towns until crews can get the hole filled in and stabilized.