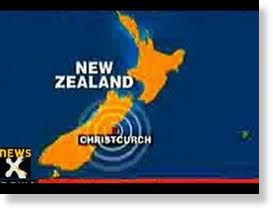 Nervous shoppers fled into the streets when a 4.7-magnitude earthquake rattled the New Zealand city of Christchurch, halting rebuilding work following last year's tremor that killed 185.
These were no immediate reports of damage or injuries and police and ambulance services said they had received no calls for assistance.
The quake struck at 12.44pm (AEST) at a shallow depth of eight kilometres about 25 kilometres east of New Zealand's second largest city, the US Geological Survey said.
The Canterbury Earthquake Recovery Authority, which is overseeing reconstruction after the deadly 6.3 tremor in February last year, said it suspended demolition work in the city centre as a precaution.
Christchurch has experienced thousands of aftershocks in the past 18 months, delaying efforts to rebuild and further unsettling residents.
USGS Data