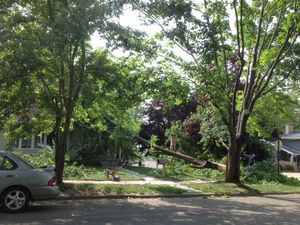 Weather officials have confirmed a tornado touched down about two miles south of Marathon City in Marathon County, and was on the ground intermittently for about five minutes.
There were no immediate reports of injuries or major structural damage.
Jeff Last is a meteorologist with the National Weather Service. He says that at about 7 p.m. Thursday, a Wisconsin State Patrol officer saw the tornado touch down. It was on the ground off and on for several miles as it moved northeast.
Last says the tornado lifted off the ground about two miles northwest of Rib Mountain State Park.
He says the storm was fast-moving.
Local authorities are surveying the area. So far, they have seen several downed trees.
Streamline winds also downed trees as storms moved across the state.
Source: The Associated Press