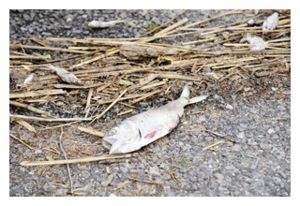 Something's rotten on the Baltimore area waterfront. Fish are washing ashore by the thousands in a mass die-off that officials say appears to be caused by a weather-driven worsening of the pollution that chronically plagues the Chesapeake Bay.
State investigators expanded their probe Wednesday into what they believe are algae-related fish kills in Marley, Furnace and Curtis creeks in Glen Burnie, raising the estimated death toll there tenfold, while finding a new batch of finny carcasses in a Dundalk creek.
Jay Apperson, spokesman for the Maryland Department of the Environment, said the agency's fish-kill investigators estimated anywhere from 60,000 to 100,000 fish of several species dead in the three creeks in northern Anne Arundel County. Only a day before, Apperson had said investigators figured there were about 6,000 dead.
"You could smell it through the neighborhood," said Rob Rogers, 45, who took a break from work at the Point Pleasant Beach Tavern to describe what he called "unbelievable" conditions on the creeks. Rogers said boaters reported dead fish floating in the water so thick they couldn't avoid hitting them.
The state investigators also found about 300 dead fish in Bullneck Creek in eastern Baltimore County, Apperson said, where residents on Tuesday had reported seeing fish and crabs thrashing on the water's surface in apparent distress. The investigators measured little oxygen in the creek's deepest water for fish to breathe.
The die-offs are a drastic byproduct of algae blooms that have discolored water in much of the upper bay for over a month now, officials said.
"We've been having lots of algae blooms in Middle River, in Baltimore harbor, even down on the Severn River," said Thomas Parham, tidewater ecosystem assessment chief for the Maryland Department of Natural Resources. "This is earlier than normal," he added, and while algae blooms are a common phenomenon on the bay in spring and summer, they normally are "not at this level."
The algae turning area waters reddish brown, in what's often called a "mahogany tide," is known as
prorocentrum minimum
, a type that has been known to produce a toxin that can kill shellfish, Parham said. While that that toxic trait has not been seen in the bay, the algae do kill fish indirectly, by consuming the life-sustaining oxygen in the water when the tiny aquatic plants die and begin to decay.
Algae feed on nitrogen and phosphorus in the water, and the bay is a super-rich soup of those plant nutrients - from sewage discharges and leaks, from fertilizer washing off farm fields and lawns and from air pollution that trickles down out of the sky.
Scientists suspect this year's algae blooms came earlier and grew thicker because of the extra dose of nutrients and sediment that flooded into the bay last summer from Tropical Storm Lee, turning the water the color of malted milk for weeks afterward.
The situation may have been aggravated more recently by a sewer line break in Baltimore County, which spilled an estimated 50 million gallons of untreated sewage into the lower Patapsco River. Though the spill was halted promptly, it took until this week for bacteria levels to decline enough for health officials to say it was OK to touch the water downriver.
"Whether it's the impacts of last year's storm, it's hard to say," Parham said of the algae blooms. "There's lots of nutrients around. The sewage spill added to that."
Whatever the source of the nutrients feeding the algae, the DNR official said the warm snap in March helped trigger the blooms earlier than normal.
"When you have a condition where it's nice and toasty and warm," Parham said, "it's a perfect recipe for those algal blooms."
And in warm, relatively wind-less weather, oxygen levels can drop precipitously when algae blooms take over small tidal creeks and coves and then begin to die back after consuming all the nutrients in the water. That's the phenomenon officials and scientists believe caused these and most previous fish kills.
Oxygen levels in the bay's deeper waters and in some shallow enclosed areas also have dropped below what's considered normal this time of year. Some volunteers raising oysters in creeks along the bay's western shore have reported finding the shellfish they planted in previous years have died.
Michael Naylor, the DNR's head of shellfish programs, said many of those oysters were placed in places where water quality was marginal to begin with, so some die-offs are not unexpected. Overall, he said, the bay's oyster populations have fared surprisingly well.
Temperatures in the bay are getting closer to normal, Parham said, but the weather usually gets warmer in late spring and early summer, which is when algae blooms normally thrive in the bay
"A lot depends on the weather now," said Naylor.
While state officials portrayed the fish kills as normal, if somewhat earlier and more intense than usual, Rob Rogers said it was the worst he'd ever seen in a lifetime of living along Marley Creek.
"We had that red tide about 10 years ago," he said. "That was nothing compared to this. ...The crabs were crawling out of the water to get air. When you're watching fish try to gulp air out of the water, something's wrong there."