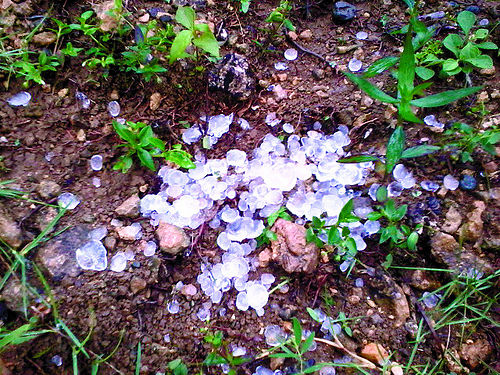 Local officials of Pinamungajan declared a state of calamity on Friday in one of two barangays that got hit by a strong wind and hail. The town is expected to follow suit.
Lamac barangay captain Mariflor Cantero, whose house the wind also leveled, said the officials made the declaration to hasten the release of aid.
Power and water supply in the affected barangays were disrupted, and the residents were still shocked by the sudden weather disturbance.
"They've never seen anything like this,"
said Representative Pablo John Garcia (Cebu Province, 3rd district) who visited the area on Friday. There was no way the residents could have prepared for what happened.
"Ang kilat nagtagbo diri, dayon ni abri ang panganod ug nihuwad sa tunga (middle) og ice dungan sa kusog nga hangin (
Streaks of lightning connected, then the clouds parted and the ice began to fall. The wind hit us then
)," said Generoso Grasia, 52.
Mayor Geraldine Yapha and local health officials went back to the mountainous site on Friday to check what the survivors might need.
The most badly hit houses were in Barangay Lamac. Many were pinned down by tree trucks. Entire roofs were torn off houses and thrown a few meters away.
Garcia, who led the distribution of relief goods inside the Lamac Elementary school on Friday, said as many as 100 families were affected. The latest count in Barangay Lamac already reached 88, plus there were some houses in Barangays Punod and Sibago that were also damaged.
A team from the Third Engineering District of the Department of Public Works and Highways (DPWH), together with the congressman's staff, cleared the streets of fallen trees.
Garcia also requested the military's 78th Infantry Brigade to help restore order in the community and help residents rebuild their houses.
Cebu Governor Gwendolyn Garcia said the Province already sent relief goods to Pinamungajan town -- including clothes, mats, kitchen supplies, blankets and powdered milk -- and will prepare financial aid for the survivors.
The whirlwind damaged properties that were more than 10 feet high.
The roof and trusses on the homes of Juanita Podador, 43, and Francisco Mañalag, 73, were torn off. Podador's roof landed on top of her neighbor Virginia Podador's roof, while Mañalag's entire roof landed five meters away from his house.
Three gmelina trees from his yard crushed the house of Daniel Bacaro, 46, and his wife Mercedes was pinned inside.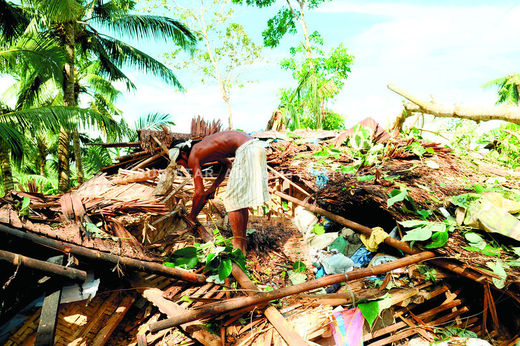 Sound and fury
Bacaro was in the rice field a kilometer away, harvesting, when he saw the whirlwind hit his house.
"Nagsige ko og singgit, 'Akong asawa! Tabangi ko ninyo' (I yelled for help)," Bacaro said.
Mercedes was in the Pinamungajan District Hospital on Friday, recovering from bruises and other injuries in her chest, back and knees.
At the height of their ordeal, said Helen Embolode, 46, the wind pried the roof open and let in enough ice, in balls the size of a child's marbles or fist, to cover their floor.
"Mura'g gibato among atop (It sounded like someone was pelting our roof with rocks)," she said.
Annaliza Bayno, 35, a church worker of San Isidro Parish in Barangay Lamac, said big ice lumps punched holes in their tent, before the whirlwind lifted the whole eight-by-ten-foot tent and slammed it five meters away.
Marijoy Embolodo, 12, was alone in her family's small hut, pushing their bamboo door closed, when the wind hit.
Survival
Her mother Fe ran to her neighbor Oscar Cialana's house, clutching her three-year-old child as four other children followed close.
"Mada ko sa hangin (I was afraid the wind would carry me away)," Marijoy said. She stayed safe inside the hut.
Her neighbor Daniel Bacaro's house was crushed by some of the trees that surrounded it.
"Pasalamat ta wala'y namatay (Let's be thankful no one died)," said Congressman Garcia, who added that several injuries were reported.
People's livelihood will be disrupted, so he asked Provincial Social Welfare officer Marivic Garces to help meet the survivors' basic needs in the meantime.
He also thanked the Toledo City Government for providing potable water to the affected residents.
No municipal officials were present when the congressman distributed the relief goods.
When asked about this, Mayor Yapha told
Sun.Star
SuperBalita they were not told that the congressman was arriving to distribute relief goods. The local officials would have met him, had they been told, she said.