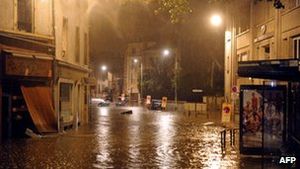 A violent rainstorm has caused flooding and power cuts in north-eastern France, with one person found dead in their home, French media report.
The equivalent of up to six weeks' rain fell in three hours on Nancy and the surrounding area on Monday night.
Emergency services have been called out 648 times, with floodwater reaching two metres (6.6ft) in some areas. Some 4,100 homes were left without power, several roads were shut and three schools were closed.
A firefighter was seriously injured when his vehicle collided with a coach. Two coach passengers were lightly hurt in the incident in Nancy, French radio reported.
The mayor of Nancy, Andre Rossinot, is asking for the storm to be declared a natural disaster.
The weather in the Meurthe-and-Moselle department cleared on Tuesday morning, but other rainstorms were being reported as far as Burgundy, the Massif Central and the Rhone Valley.
'Rather apocalyptic'
The dead person, described as elderly, was found in their home by emergency workers in Essey-les-Nancy, a village which suffered particularly severe flooding.
An investigation is under way into the cause of death.
In the same village, fast-flowing floodwater two metres deep prevented emergency workers from crossing some streets. Cellars filled with water in a matter of minutes. Jean-Paul Monin, mayor of Essey-les-Nancy, told French radio: "I've just come back from one small area where the people are in despair.
"There are people who have lost everything... It's rather apocalyptic. There are no other words to describe it.... A wall of water fell on us."
Julien, an inhabitant of Nancy, told regional newspaper
L'Est Republicain
: "At 23:00 [21:00 GMT on Monday]
I saw from my window geysers coming out of the manholes.
"I just had time to move my car...
It reminded me of a tsunami
."
More than 260 firefighters and police were deployed, according to the Meurthe-and-Moselle prefect's office.