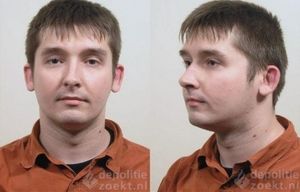 A Dutch paedophile referred to as Robert M has been sentenced to 18 years in prison for abusing more than 60 children, some just a few months old.
Robert M was arrested after a US investigation into an international paedophile ring.
The Latvian-born Dutch defendant has been dubbed "The Monster of Riga" by the national press.
This is the worst case of its kind the Netherlands has ever seen, says the BBC's Anna Holligan in the Netherlands.
There were dramatic scenes in court, our correspondent says, with the accused throwing water and directing obscene gestures at the judge.
The presiding judge said he had imposed a long sentence in view of the "nature of the facts, the refined way they were planned and their duration".
He added M's expressions of remorse were not credible and gave them no weight in sentencing, the AP news agency reports.
As well as the prison term, judges ruled Robert M would face indefinite treatment in a psychiatric institution.
Identified as Robert M due to the Netherlands' privacy laws, the man abused dozens of extremely young children in two Amsterdam nurseries and at homes where he was babysitting. He then shared videos and images of the acts on the internet.
He was convicted of abusing 67 victims, though he confessed to more.
The case deeply shocked the Netherlands when M was arrested at the end of 2010.
His husband, Richard O, was sentenced to six years in prison for "facilitating" the committal of the crimes.