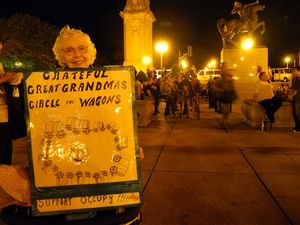 Chicago, Illinois -- Nan Wigmore brought her walker and packed her sign, "Grateful Great Grandmas Circle The Wagons, Support Occupy," and rode on a bus for some three days, sleeping in the same clothes, to make it to the NATO protests in Chicago.
The 75-year-old from Portland, Ore., says she couldn't imagine being anywhere else despite the discomfort of her journey.
"My feelings are too deep to keep me in my old comfortable place, so I had to learn some new things and that means to move out of my comfort zone," Wigmore said as she sipped a hot chocolate late Friday after a few hundred protesters met at a downtown Chicago plaza in the lead-up to the two-day summit that begins Sunday.
She was one of hundreds of demonstrators who got free bus rides from National Nurses United, a coalition of nurses unions that held a rally earlier Friday in Chicago calling for a transaction tax on Wall Street. But Wigmore stands out from the crowd with her sign and walker.
A few protesters at the plaza greeted her and shared laughs amid the thunder of helicopters clattering overhead and people playing drums.
After one man told her she was "amazing" and a "force to be reckoned with," she later said: "I'm a woman walking with a sign, period ... I'm following the heroics, the courage of generations back really, you know, we're just continuing what was going on."
Wigmore, who was an anti-nuclear activist, said she got involved in the Occupy movement as it picked up steam back home.
A great-grandmother to "less than 15," grandmother to 12 and mother of five, she said her youngest child called her "hero" but there were others in her family who had differing points of view.
For her, there was nothing more important than being in Chicago protesting against NATO, calling for money to go to health and education initiatives and not to war. She said she was "very serious" about her protesting and did not intend to stop.
"As a matter of fact, if I lose my life in the process of all this, it's the best way I would let myself go," she said.
And to those who may wonder why she is out on the streets protesting, she has a question of her own in turn: "I'd say, 'Are you certain that everything is the way you want it?'"