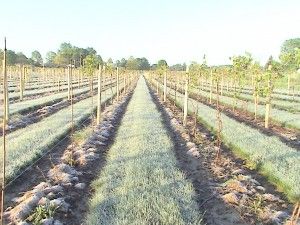 It was what grape growers in Northern Ohio feared the most. Early Sunday morning, temperatures in the Grand River Valley vineyards of Lake and Ashtabula Counties dropped into the lower and middle 20s. That's not just a quick frost. That's a hard freeze. By 9 that morning, most of the primary buds, the growth that gives you the best fruit, were black and shriveled, killed by freezing temperatures.
"It was devastating." said Mary Jo Ferrante-Leaman, of Ferrante Winery in Geneva. "There was just nothing we could do."
Leaman said the freeze killed 80 percent of this year's wine grape crop. Ferrante Winery farms 45 acres of vinifera grapes in the prestigious Grand River Valley appellation east of Cleveland. The grape vines began growth early this year due to an extremely warm March. Growers at several area wineries have battled eleven different frost or freeze events from late March through the month of April. All had managed to save the majority of their crops. That is, until Sunday morning.
"We have 6 large wind machines to mix the air and keep the grapes warm," Leaman said, "but once the temperature drops below 28 degrees for more than a couple of hours, freeze damage begins."
Temperatures early Sunday were well below freezing for more than 6 hours. "We haven't seen a freeze like this in at least 12 years," said Leaman.
Similar reports are coming in from nearby Vineyards as well. Growers at St. Joseph's Winery & Chalet Debonne report similar devastating losses.
Gene Sigel farms 170 acres of wine grapes in Lake and Ashtabula Counties. He said Monday's cold
"pretty much destroyed the whole 2012 vintage for our wine farmers."
Sigel supplies grapes to several wineries in the area.
"Vines that were brilliant green on Saturday afternoon," lamented Sigel, "were turned to dry lifeless shoots by the frost on Sunday morning. Fields that stretch as far as the eye can see are simply all dead."
Vines will grow new buds in a few weeks, Sigel said. The fruit on these buds will be smaller and of lesser quality.
"Fields that froze this week have not frozen in 50-60 years in our area." he added, "In my case I just bought 54 acres of a neighboring farm last year that has never really frozen like this. The previous owner is 93 years old and has owned the farm I bought since 1956 and never experienced this complete a frost."
Mary Jo Ferrante is hoping for the best. "With the secondary fruit set, we might be able to produce about a third of what we normally do."
Ferrante Winery averages about 110-thousand gallons of wine per year. "We won't have any signature or reserve wines this year." she said.
On top of that, the cost of saving the grapes keeps mounting. Ferrante just spent $5,000 on propane for the wind machines. "More frosts are still possible." said Ferrante, "We've got to save the grapes we have left."