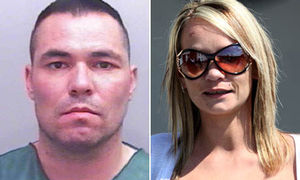 A woman whose boyfriend blinded her by gouging her eyes with his thumbs has urged other victims of domestic abuse not to suffer in silence but to alert the police or support groups.
Tina Nash spoke out as former partner Shane Jenkin began a life sentence for the barbaric, unprovoked assault on her at her home in Cornwall.
Nash said: "I urge anyone out there suffering domestic abuse to contact the police before it is too late. Don't be frightened or embarrassed - there are specially trained officers who can and will help you.
"If you really feel unable to contact the police, there are charities and support groups such as Women's Aid who will help, advise and support you in doing so."
It emerged during the sentencing that in the 12 months before Nash was blinded, Jenkin was reported to the police nine times for suspected domestic violence and on one occasion a prosecution was launched after he threatened to burn his girlfriend's home down. But he promised to reform his ways and Nash declined to give evidence against him.
Truro crown court heard that Jenkin struck again in April last year a day after the pair had watched a "a gory DVD which ended with a Chinese girl having her eyes hanging out of her head".
Andrew Macfarlane, prosecuting, said Nash, 31, went to bed but awoke to find Jenkin, 33, on top of her, strangling her. Macfarlane told the court: "The next thing she can recall is the defendant pulling the duvet away and saying, 'Oh my god, your eye is hanging out of your head'."
The prosecutor said Nash did not scream or cry for help because she had learned from previous experience that if she did, he would become more violent. She also knew she had to stay calm because her children, 13 and three, were in the house, Macfarlane said.
As well as suffering terrible injuries to her eyes, Nash suffered a broken jaw and nose. She begged Jenkin, who is 6ft 4in tall and weighs 17½st, to get help for her but he refused and held her prisoner for 12 hours during which he blamed her for the attack.
Nash, of Hayle, Cornwall, said she had waited a long time for Jenkin to face justice and believed he waited for a year before
pleading guilty to grievous bodily harm
with intent because he hoped she would back down.
"I have waited a year and three weeks for this day," she said. "It was a week short of a year before Shane decided to plead guilty.
"This delay I believe to be deliberate as Shane hoped I would give in and back out as I had done previously, and he was happy in the knowledge that he was still controlling my life by doing so."
The court was told that Jenkin is being held in a medium secure psychiatric hospital in Devon and heard evidence that he was mentally ill when he attacked Nash. If and when he is released from hospital he will be moved to prison. He will not be eligible for parole for at least five years.
Nash insisted: "Shane was not mentally ill when he attacked me, he was not drunk or under the influence of drugs. It was a silent, prolonged attack. Shane knows what he did to me that night and he has to live with that for the rest of his life.
"My life changed forever that night and will never be the same but I am now able to move on, start my treatment and rebuild my life. I have a future and want to provide a future for my kids and be a good mum."
Judge Christopher Harvey Clark QC said Jenkin had committed a "barbaric attack involving extreme violence".
He said: "Shane Jenkin, has pleaded guilty to a truly terrible crime." The judge said Nash had "lost the precious gift of sight. She will never again be able to see her family, her friends or the beautiful coast and countryside of this county. It is almost impossible to imagine the despair and distress Ms Nash must feel at never being able to watch her two sons growing up."
Speaking after the hearing, Detective Inspector Chris Strickland, of Devon and Cornwall police, said the sentence meant Jenkin would be held in prison or hospital for a "long, long time".
He added: "There are many people out there who we don't even know about who are victims of domestic abuse. They don't come forward and they always think they can change what's happening to them. But the fact is, as you can see, it moves on and gets worse. They need to come and tell us."
Strickland paid tribute to Nash's courage in trying to rebuild her life, saying: "Tina has displayed incredible strength, however, and has shown great desire to be able to care for her two children despite not being able to see them as they grow up."