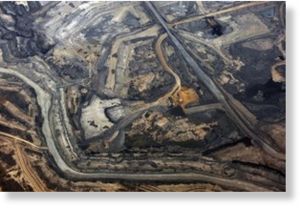 A prominent NASA scientist penned a provocative column in the
New York Times
Thursday, suggesting the end of civilization could be nigh, thanks to Alberta's 'tar sands.'
"Global warming isn't a prediction. It is happening. That is why I was so troubled to read a recent
interview with President Obama
in
Rolling Stone
in which he said that
Canada
would exploit the
oil
in its vast tar sands reserves 'regardless of what we do,'" climatologist James Hanson wrote.
"If we were to fully exploit this new oil source, and continue to burn our conventional oil, gas and
coal
supplies...twenty to 50 percent of the planet's species would be driven to extinction. Civilization would be at risk."
Hansen, who has directed the NASA Goddard Institute of Space Studies for nearly three decades, has published numerous articles on the subject of climate change.
In recent year's he's become an activist, once getting
arrested
at a White House protest against mountaintop coal mining.
His solution to stop Canada's 'exploitation' of the oil sands is for the U.S. government to introduce a different kind of cap and trade system.
"We should impose a gradually rising carbon fee, collected from fossil fuel companies, then distribute 100 percent of the collections to all Americans on a per-capita basis every month. The government would not get a penny," he wrote.
"Most Americans, except the heaviest energy users, would get more back than they paid in increased prices. Not only that, the reduction in oil use resulting from the carbon price would be nearly six times as great as the oil supply from the proposed pipeline from Canada, rendering the [Keystone] pipeline superfluous, according to economic models driven by a slowly rising carbon price."
This isn't the first time Hansen has weighed-in on the oil sands, but his musings comes on the heels of a parliamentary
report
suggesting Canada won't meet its emission targets - a report, which made it on to the
New York Times
website
, on Tuesday.