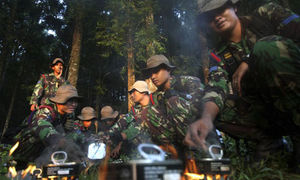 Wreckage of Sukhoi Superjet-100 found on the side of a mountain in Indonesia after it disappeared on Wednesday
Search and rescue teams have found the wreckage of a Russian-made passenger plane on a mountain after it
disappeared during a demonstration flight
in western Indonesia. The fate of the 48 people on board is not known.
Helicopters had resumed a search halted earlier because of bad weather. They saw the wreckage of the plane along a cliff on the mist-shrouded mountain, Major Ali Umri Lubis, of Atang Sanjaya air base, told Metro TV.
"The helicopter just informed us that they spotted the wreckage about 10 minutes ago," Lubis said. "It was at about 5,000ft. The condition of the wreckage is still unclear."
The Sukhoi Superjet-100, Russia's first new passenger jet since the fall of the Soviet Union two decades ago, left Halim Perdanakusuma airport in Jakarta on Wednesday afternoon for what was supposed to be the second demonstration flight of the day. Potential buyers and journalists were on board.
The jet dropped off the radar 21 minutes later, immediately after the crew asked air traffic control for permission to drop from 3,000 metres to 1,800 metres, said Daryatmo, chief of the national search and rescue agency.
They didn't explain the change of course, he said. Drizzle was falling at the time but it was not stormy and there was no obvious sign of trouble.
More than 800 people, including soldiers and police, took part in the search and rescue operation. Though the weather was clear on Thursday, they were battling rugged and often steep terrain.
Russia's aerospace industry was badly undermined in the economic turmoil following the 1991 collapse of the Soviet Union.
The Superjet developed by the civil aircraft division of Sukhoi with the co-operation of western partners was considered the country's chance to regain a foothold in the international passenger plane market.
It's 'Welcome Asia!' tour, which included stops in Pakistan, Burma and Kazakhstan, was intended to drum up support for the project.
Sunaryo, from PT Trimarga Rekatama, the company that helped organise Wednesday's event, said 48 people were on board. Among them were eight Russians, all from Sukhoi companies and none of them diplomats, he said, correcting reports earlier by search and rescue officials.
The passengers included one American, a consultant with P Sriwijaya Airline, and a Frenchman with aircraft engine-maker Snecma, he said.
The 75- to 95-seater Superjet was being touted as a challenger to similar-sized jets from Canada's Bombardier and Brazil's Embraer. It made its inaugural commercial flight last year.
Source: The Associated Press