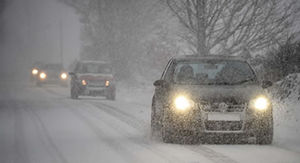 Scotland was colder than the Arctic at the weekend with freezing temperatures and snow.
It was - 7.4C on Saturday morning on Cairngorm mountain, near Aviemore, and - 6.2C at Saughall, Ayrshire.
But in the Arctic at the most northerly village in Europe - Honningsvag in Norway - it was only 0C.
Yesterday morning was just as bad with temperatures below freezing in many parts.
And rain and sleet were threatening to make today's bank holiday a wash-out as a "monsoon" week threatened floods in Scotland.
Seaside resorts were deserted at the weekend in bitter temperatures of 5C to 7C - up to 10C colder than normal.
Farmers and gardeners were badly hit as crops and plants were killed off by widespread frost.
But it was good news for skiers with hundreds flocking to Cairngorm and Glencoe.
The big freeze broke May temperature records and was close to the UK's lowest for that month, - 9.4C at Fort Augustus, Inverness-shire, in 1941.
Britain has shivered through the biggest spring temperature plunge since 1938, and the third biggest temperature fall since records began in 1659.
It's also been the
UK's wettest April since rainfall records began 245 years ago.
A giant 142mm of rain fell, more than treble the normal.
Scotland was not as badly hit as south of the Border, but the east saw many deluges.
Forecasters warned of sleet and snow today and a "monsoon" week ahead with an inch of rain tomorrow, more downpours on Thursday and the threat of flooding.
Met Office forecaster Dan Grey said: "It will be a wet week ahead.
"We're keeping a close eye on forecast rainfall and are liaising with the Scottish Environment Protection Agency."