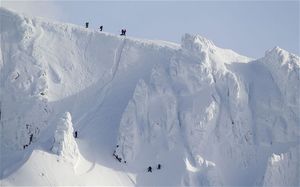 Parts of Britain will be colder than the Arctic this weekend as rain and even snow threaten to put a freeze on millions of families' May Bank Holiday plans.
Beach trips and barbecues are likely to be off the agenda as forecasters predicted the mercury could plunge
as low as 26F (-3C
) in places on Saturday.
Holidaymakers were advised to go skiing rather than sunbathing and seaside resorts warned of multi-million pound losses and deserted beaches.
Farmers and gardeners, battered by drought and floods, have also been warned that
crops and plants could be killed by widespread frosts
.
Flooding continued today as the Met Office said rain hit many parts and the Environment Agency issued 19 flood warnings and 61 alerts. East Anglia, the Midlands and the South were worst hit.
Showers will hit the south coast on Saturday, a wider area of the south on Sunday, and most areas on a washout Bank Holiday Monday, with further widespread rain next week.
Forecasters warned of snow falling on high ground in Scotland, as thousands of skiers prepared for out-of-season sport at Cairngorm and Glencoe.
Parts of Scotland and northern England could see temperatures down to 26F (-3C) on Saturday night - colder than the 32F (0C) expected in Honningsvag, Norway - the most northerly village in Europe.
Top temperatures in Britain are likely to be in the south but will only reach around 50F (10C) at best, the Met Office said.
The cold weather will continue through Sunday and Monday with highs of around 52F (11C) and lows of 28F (-2C).
"It's certainly cold for this time of year, particularly for a May Bank Holiday weekend," a Met Office spokesman said.
He added that it will be 5-6C colder than the average May minimum over the weekend.
The cold spell is being blamed on a plunge of Polar air, with weeks of rain caused by stalled high-altitude Atlantic jet stream winds leaving soggy low pressure systems stuck over Britain.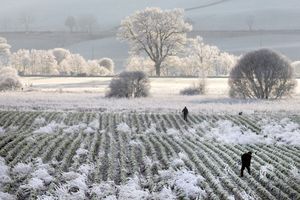 Despite deluges, the Environment Agency said the drought is so severe that levels of groundwater, the main source of drinking water in the south and east, only improved minimally in the last week.
Experts say soil is so dry that deluges have failed to filter down, instead running off to cause floods, evaporate or be sucked up by thirsty plants.
Of 27 groundwater measuring sites across England and Wales, 11 are exceptionally low - down from 14 last week - with another eight still below normal.
Reservoir levels are up by up to 14 per cent - but still exceptionally low in the south-east - while overflowing rivers are exceptionally high at half of all measuring sites.
Forecaster Brian Gaze of
The Weather Outlook
said: "Skiing looks like a better prospect than sunbathing this weekend."
Bournemouth area hospitality association Chairman Andrew Woodland said: "Visitor spend will be way down this weekend, with a fall of around £1 million compared to a good weather weekend.
"It's not only hotels which suffer, as seafront businesses, cafés, pubs and taxis are also affected."