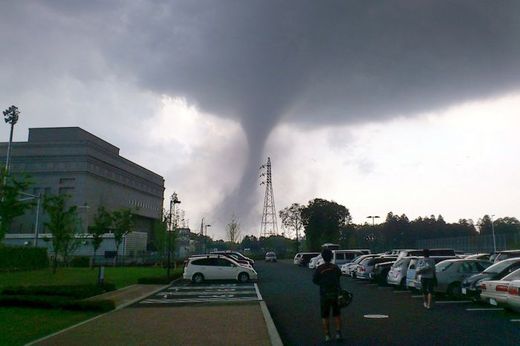 A tornado ripped through eastern Japan, killing one person and injuring at least 20 people, destroying houses and cutting power to around 20,000 households.
The tornado tore through several towns north-east of Tokyo, with television footage from the city of Tsukuba showing houses torn apart, overturned cars and toppled power poles.
Aerial images showed possibly hundreds of houses and apartments with shattered glass windows, many of them with their roofs blown away.
"You could see the roaring column of wind rushing with sparks from live power lines inside it," a local man told national broadcaster NHK.
"Winds blew into my house. It took only a moment," a woman told NHK while cleaning up her home.
Officials say a 14-year-old boy was killed while up to 50 homes were destroyed. Local media reported at least 30 injuries.
Japan's weather agency issued tornado warnings for a wide region in the east of the country, urging people to seek shelter in case of sudden winds and thunder.
The severe winds caused a power outage for nearly 20,000 households in the region, said a spokeswoman for Tokyo Electric Power.
"The tornado and thunder happening around 12:46 pm (0346 GMT) are believed to be the cause of the outage for 19,300 clients in Tsukuba and its surrounding areas," she said.