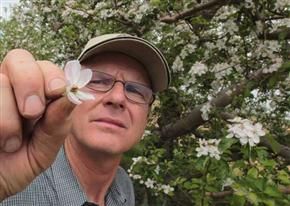 A catastrophic freeze has wiped out about 80 per cent of Ontario's apple crop and has the province's fruit industry looking at losses already estimated at more than $100 million.
"This is the worst disaster fruit growers have ever, ever experienced," Harrow-area orchard owner Keith Wright said Friday.
"We've been here for generations and I've never heard of this happening before across the province. This is unheard of where all fruit growing areas in basically the Great Lakes area, in Michigan, Pennsylvania, New York State, Ontario, are all basically wiped out. It's unheard of."
Wright lost hundreds of thousands of dollars worth of apples and peaches Sunday morning when freezing temperatures killed the blossoms.
Warm temperatures got fruit trees blooming early and when temperatures plummeted Sunday morning it damaged or wiped out much of the $60 million apple crop and 20 to 30 per cent of Ontario's $48 million tender fruit crop which includes peaches, cherries, pears, plums and nectarines.
Brian Gilroy, a Georgian Bay area apple grower who is chairman of the Ontario Apple Growers, said the loss to fruit growers and the economy will easily be more than $100 million. On top of the lost yield or no crop at all, orchard workers and spinoff industries such as juice, packing, storage and farm supplies will be affected.
Gilroy said consumers will find locally grown apples pricey and difficult to find this fall. Some kinds of apples such as Empire will be very difficult to find.
Washington State has a good crop but consumers should expect apple prices to jump because all of northeastern North America was affected, he said.
What crop growers do get will likely have visible damage such as apples with ridges like the ones on pumpkins.
"This past weekend in southwestern Ontario and the Niagara region temperatures got down to close to -7 (Celcius) while things were out in full bloom and it's pretty well wiped them out," Gilroy said of orchards already hit by previous frosts. "It's very widespread and the worst that anybody's seen."
Gilroy said about 65 per cent of the 215 commercial apple growers in Ontario have crop insurance but the disaster has the board approaching the provincial and federal governments for help under an agri-recovery program.
Some growers across Ontario have also lost entire orchards of peaches, sour cherries, pears, plums and nectarines, said Phil Tregunno, chairman of the Ontario Tender Fruit Producers Marketing Board.
It depended on location. The board is estimating 20 to 30 per cent of that $48 million crop is done.
"It was just way too early," Tregunno said of blossom season that came about a month early. "That just put us at a huge risk."
Dave Nickels of Nickels Orchards in Ruthven said he lost all his apples, peaches, cherries and pears. He said when talking to other growers you can't even get a word out of them because they're just sick.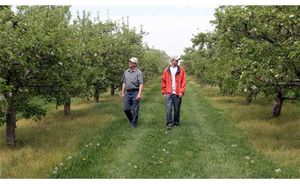 "It's kind of like having a death in the family except there's no closure to this one," Nickels said.
Wright said the warm weather came so early growers were worried the blossoms would get hit by frost. At 4:30 a.m. Sunday morning the temperature at Wright's farm bottomed out at about -3 C. He said at -3.9 degrees researchers estimate there will be 90 per cent bud kill.
In some varieties there is still a chance to get some apples. In early June trees shed excess fruit as a natural thinning process and growers will have to wait to see if shocked trees will drop all their fruit, Wright said.
Janice Wagner of Wagner Orchards in Lakeshore said it looks like they were lucky and their apple blossoms didn't get frozen, perhaps because they are further from the lake.
Strawberries and blueberries may have escaped. Helen McLeod of MacLeod farms near Cottam said they tried to protect their berries by spraying water on them all night. It's a trick she hopes worked.
Ted Klassen of Klassen Blueberries on County Road 50 near Lake Erie said he thinks he escaped with very little damage to the blueberry bushes that were in full bloom.
shill@windsorstar.com or 519-255-5796