It took 17 years, but the French state council has acknowledged that 95% disability in 5-month-old baby was caused by a vaccine, sentencing the government to pay over 3 million Euros in benefits.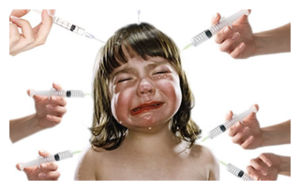 The Pentacoq vaccine, withdrawn from the market on 22nd December 2005 and replaced by another, was used for five infectious diseases: whooping cough, haemophilus influenza type b (aka Hib), diphtheria, tetanus and polio. In 1995, 5-month-old baby Ines was prescribed and given this vaccine in compliance with the legally-required vaccination schedule in an attempt to prevent whooping cough, one of the diseases covered by the five-part Pentacoq vaccine.
Two other components of the vaccine are also legally required. One week later, Ines was rushed to hospital for serious neurological complications which were not fatal but left her 95% disabled due to acute rhombomyelitis, "
attributable

to administration of the Pentacoq vaccine,"

the State Council finally proclaimed after 17 years of deliberation.
The Government, and more specifically the Ministry of Health, is therefore now sentenced to payment more than 3 million euros to this severely disabled young woman, now in her teens (and to the MSA (French Farmers Mutual Insurance) which paid her hospital fees), since vaccination was legally required at the time. Pre-2002, the French government assumed any risk linked to vaccines. Since 2004, it is ONIAM (French Medical Malpractice Compensation authority) which now pays for vaccine-related benefits. Sanofi-Pasteur, manufacturer of the Pentacoq vaccine, will however escape scot-free.
It will have taken the Courts 17 years to settle this claim. For the victim and her family, it has been 17 years of waiting and hoping for benefits while the Ministry of Health and Sport, now represented by Xavier Bertrand, dragged its feet; 17 years of lawyers' time paid by the government, a.k.a. the taxpayer, in litigation against the victim and her family.
The State Council has therefore also agreed to pay moral damage to the parents and sister of the victim along with continuing annual payments to the victim herself.
Source:
State Council Proceedings, 24th April 2012, No. 327915
Docbuzz link