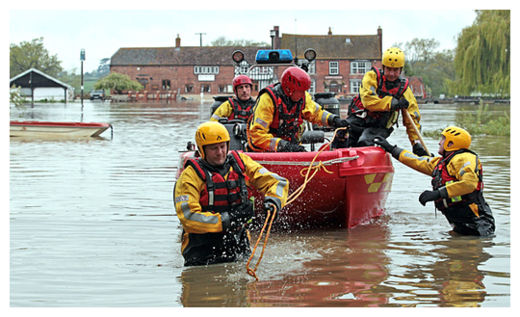 After a mini heatwave and the wettest April on record, now parts of Britain are braced for a taste of some wintry weather.
Forecasters say it will be turning much colder as we head towards the weekend, with some areas seeing unseasonable frost and sub-zero temperatures.
Sky weather presenter Nazaneen Ghaffar said: "It's all thanks to a cold front slowly moving southwards across the UK on Friday. This will bring with it colder air into northern areas.
It'll be chilly for Scotland and Northern Ireland and northern Scotland could see a few wintry showers.
"On Saturday again some wintry showers are likely over the hills of Scotland."
Flood warnings and alerts remain in place after the recent heavy rainfall, with some rivers set to reach their peaks.
The Environment Agency
is urging people to keep away from swollen rivers and not attempt to walk or drive through flood waters.
On Monday, a mental health tribunal judge died when his car was swept away by 5ft of fast-flowing water at a ford in Headley, Hampshire.
Although the wettest April on record has started to restore water levels below ground,
experts say it will take a lot more time and rain
to undo the effects of two dry winters and bring swathes of England out of drought.
Environment Secretary Caroline Spelman
has even raised the possibility of standpipes returning to UK streets if the country is hit by a third dry winter in a row.
"Whereas it's most unlikely we would have standpipes this year, if we have another dry winter that becomes more likely.
"We really do need a wet winter to get back to normal conditions," Mrs Spelman said.
See all the Environment Agency alerts here
One in four Britons have been using their hosepipes in spite of the ban, a survey claims.
A poll of more than 1,000 people living in drought-affected areas for
Gardeners' World
magazine found that 25% had been totally or partially ignoring the ban imposed by seven water companies on April 5.