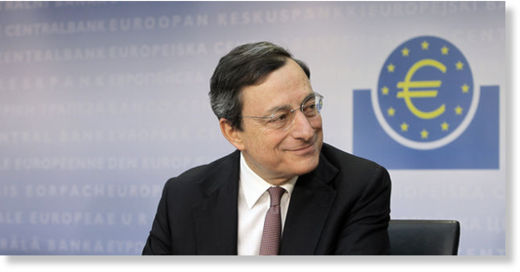 European leaders will seek to restore market calm this week after Spain was cut by Standard & Poor's and a German-led austerity agenda to resolve the debt crisis came under fire ahead of elections in France and Greece.
With Spain's largest unions leading marches involving thousands of protesters in 55 cities yesterday, Prime Minister Mariano Rajoy's government battled to prevent Spain from becoming the next country to seek bailout aid. In France, the final round of presidential elections on May 6 and the prospect of victory for Socialist candidate Francois Hollande steered debate toward whether a focus on budget cuts worsens the crisis.
"Watching Spain now is exactly like watching Ireland around October 2010 before Ireland was forced into its bailout," Megan Greene, a senior economist at Roubini Global Economics LLC, told Bloomberg Television's "Street Smart" on April 27. "The government can't win no matter what it does."
As Spanish unemployment last week reached almost one in four of the working-age population, Hollande demanded that euro- area leaders move to promoting growth from cutting budgets, as agreed by 25 European government in the so-called fiscal pact. German Chancellor Angela Merkel drew the line at re-opening talks on the fiscal treaty, though she said growth could be boosted with labor-market reform and European Union funding.
"There will be no new negotiations on the fiscal pact," Merkel told the
Leipziger Volkszeitung
in an interview published on April 28. Even so, EU leaders may consider measures such as strengthening the European Investment Bank as part of a package of growth initiatives to be discussed at their summit meeting in June, she said.
'Years Rather Than Months'
The debate was spurred on by European Central Bank President Mario Draghi last week after he called for a "growth compact" consisting of structural changes and improvements in competitiveness to enhance the fiscal pact.
"If the conversation has shifted toward this, then it shows that they're moving toward a way to put their economy and their currency on a more stable footing," William Adams, a senior international economist at PNC Bank NA, said in an interview from Pittsburgh. "It's a process you're going to measure in years rather than months."
The EU is working on an investment package of 200 billion euros ($265 billion) for infrastructure, renewable energy and technology in the euro-area's worst-hit countries,
El Pais
newspaper reported, citing unidentified officials familiar with the plan. The funds will come from 12 billion euros from the European Financial Stabilisation Mechanism to boost the capital of the EIB,
El Pais
said.