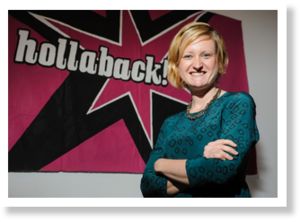 Skirt-chasers may face city's wrath via new app.
Looking to fight back against catcalling men hollering out "hey sexy" and other obnoxious come-ons? The city is working on an app for that.
Council Speaker Christine Quinn
and City Councilman Julissa Ferreras (D-Jackson Heights) have greenlighted $20,000 worth of research hoping to develop an easy way for folks to report forceful flirtation and other forms of street harassment, the Daily News has learned.
The cash went to Hollaback!, a
Boreum Hill
based nonprofit, that already uses a hot pink iPhone and Android app. collecting complaints mainly from peeved women detailing sidewalk encounters with creepy Casanovas.
The app allows women to upload pictures and stories about unwanted advances.
The city hopes to expand the Hollabck! app by allowing users to report the catcalling.
"The city should know where street harassment is happening, why it is happening, and how it can respond," said Hollaback! cofounder
Emily May
, 31, who heads ihollaback.org and its 52 sister sites in places like Boston and Brussels.
The idea of a city-sponsored catcalling app came up as May noted that cops can't really track loudmouth skirt chasers.
"I am excited about the prospect of the app because it will give women another tool to report harassment," Ferreras said. "I hope that it will help collect data on the amount of harassment that occurs in the city and bring awareness on an issue that is so often ignored by law enforcement."
A Cornell University study of f 223 "hollas" or reports from the Hollaback! site in the city found nearly two-thirds of street harassment was verbal; 29 percent included physical touching, and 4 percent included "nonverbal actions" like staring or taking pictures.
"As a civil society, we should take this phenomena as seriously as we see sexual harassment in the work place, bullying, and stalking," said
KC Wagner
, Director of Workplace Issues at Cornell University's Industrial and Labor Relations school.
"It should no longer be tolerated."
New York men said an app won't stop them from telling a pretty woman what's on their mind.
"You can't put an end to it. It happens everywhere," said Brooklyn law school student
Asher Grossman
, 27,.
Bushwick Bartender Steven Cruz, 25, said getting the city involved with the app "is an invasion of privacy."
"If you want to talk to a girl. Why can't you talk to a girl? Let's say you are a single looking for a woman?" Cruz said.
His gal pal
Yleana Nunez
, 22, disagreed.
"It's awesome. Let's say you find a guy and he is a predator. And he knows that you can put his photo on a website. It will make a difference."