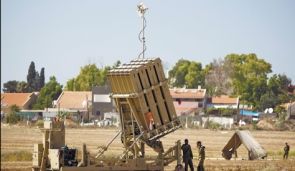 So far, the United States has provided $205 million to support the Iron Dome effort; Obama administration plans to request unspecified level of funding from Congress to help expand the system.
The United States would spend an additional $680 million through 2015 to strengthen Israel's short-range rocket shield under a plan crafted by Republicans from the House of Representatives, two congressional staff members disclosed on Friday.
The figure could put election-year pressure on President Barack Obama's administration to spell out what it deems suitable support for the "Iron Dome," which has played an increasingly important role in Israeli security.
Israel has so far deployed three operating units of the system, which helped thwart Palestinian rocket salvos during a flare-up in fighting around the Gaza Strip last month. It has spoken of needing a total of 13 or 14 units to protect various fronts.
The system intercepted more than 80 percent of the targets it engaged in March when nearly 300 rockets and mortars were fired at southern Israel, saving "many lives," a U.S. Defense Department spokesman said on March 27.
The Obama administration plans to request an unspecified, "appropriate" level of funding from Congress to help expand the system based on Israeli requirements and production capacity, George Little, the Pentagon press secretary, said at the time.
There was no immediate official comment from the Obama administration on Republican plans to seek $680 million starting in the current fiscal year through fiscal 2015. It is not clear how the administration will view the proposal.
The matter may come up when panels of the U.S. House Armed Services Committee start crafting their version of the 2013 Defense Authorization Act next week or, failing that, when the full committee writes its bill in May.
So far, the United States has provided $205 million to support the Iron Dome effort, manufactured by Israel's state-owned Raphael Advanced Defense Systems Ltd. The system uses small radar-guided missiles to blow up in midair Katyusha-style rockets with ranges of 5 km (3 miles) to 70 km (45 miles), as well as mortar bombs.
A Republican congressional aide said the proposed additional $680 million would provide the batteries and interceptors needed to defend Israel, based on the current coverage and the arsenal available to Hamas and Hezbollah Islamist militants.
The American Israeli Public Affairs Committee, the biggest pro-Israel lobbying group, did not immediately respond to questions about what it deems the scope of Israel's need.
Republicans critical of funding level
This year, Obama's budget requests $3.1 billion in security assistance to Israel, part of a 10-year, $30 billion U.S. commitment to the Jewish state's security. None of that is scheduled to fund Iron Dome.
Top Republicans have criticized Obama for what they described as inadequate funding of U.S.-Israeli missile defense cooperation in his 2013 budget request released in February amid deficit-reduction requirements.
"We are deeply concerned that at a time of rising threats to our strongest ally in the Middle East, the administration is requesting record-low support for this vital defense cooperation program," House Foreign Affairs Committee Chairwoman Ileana Ros-Lehtinen and House Armed Services Committee Chairman Howard McKeon, wrote in a February 14 letter to Obama.
Political analysts said U.S. and allied defense needs were often treated as wedge issues in election years along with other potential vote-getters.
Congressional Republicans may hope their strong support for "Iron Dome" will help "crack the normal two-to-one advantage Democrats usually enjoy with Jewish voters," said Cal Jillson, a political scientist at Southern Methodist University in Dallas.
Source: Reuters