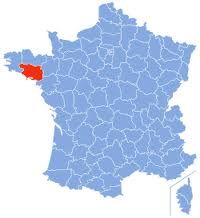 A "thud" and even "three booms" were heard in the sky near Bigouden Wednesday night, March 23rd. The phenomenon remains unexplained and apparently was repeated on the night of the 24th from north to south of Finistere. There were reports also in Côtes d'Armor and Morbihan. But where do these sounds come from? "It sounded like a thud of a child stamping his feet on the wall of the neighbor," one witness said. Testimonials are legions Bigouden. But not only. Combrit Chateauneuf-du-Faou through Briec, Quimper, Plogastel-Saint-Germain, Pont l'Abbé, Tréméoc, Cockles, Plobannalec-Lesconil or Clohars-Fouesnant, many people on Wednesday to 21h, were intrigued by the phenomenon.
Some alluded that "their houses were shaken three times.' We're talking about "three strong rumblings" that "have rattled houses" and even awakened some.
Some people, meanwhile, heard what they described as "muffled explosions" while others are convinced that this was from "an earthquake." But neither a reported earthquake, nor aerial maneuver by aircraft can explain the mystery.
Contacted, the central office Seismological French (BCSF) states that nothing abnormal registered in this area. And for its size, Chateauneuf-du-Faou Clohars-Fouesnant, the blasts and aftershocks felt "like the equivalent of a magnitude 3 earthquake in force." In 2005, Bigoudens remember, an earthquake on the fault of south Armorican which had a magnitude 3 on the Richter scale caused the same feelings. What then of these explosions heard and felt? An air-borne cause? Regional Centre of Western navigation, it is shown have no record this kind of phenomenon. Moreover, some also said they heard a helicopter. Proceeded by "three booms" recalling it sounded like "thunder." One thinks of an aircraft. When questioned, the communications department of the Brest Maritime Prefecture
said that there was no Navy operation in the region and even less involving helicopters
. An official from the Joint Staff of the area of defense and security northwest (OGZDS), said there were no operations or "supersonic flights." Bizarre; especially considering in March of 2003, three earthquakes also hit the Bigouden and that phenomenon also remains unexplained. -
Le Télégramme
(translated)