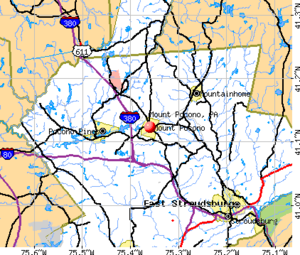 US, Pennsylvania - Strong thunderstorms hit the Poconos Friday night, moving through shortly after 10 p.m. and continuing for at least a half hour, but the weather event that had folks talking was a loud sonic-like boom that shook houses at about 10:15 p.m.
Gilda Spiotta of Long Pond said, "The shaking last night lasted unusually long. Didn't sound like thunder, didn't feel like thunder, was wondering if something happened on 380/80; tanker accident."
Another Long Pond resident, Lorene R. Allman-Mars:
"My son was at the back door letting the dogs out and he reported that he saw a large flash of light fill the sky toward/above the FedEx distribution site on 940, then he heard a loud boom.
It didn't look like lightning, it looked like a bomb blew up in the air. I was on the second floor of the house; I didn't see anything but I heard the boom and felt it shake the house. I actually felt it under my feet. The floors shook; I have never felt lightning shake the house like that before and we've been up here 20 years!"
Some readers suggested an earthquake or an explosion, but said that definitely was no routine thunder.
Meteorologist and Pocono weather expert Ben Gelber offered this explanation: "One possibility is that thunderstorms in our chilly environment near the surface tonight, associated with an inversion of warm air aloft, sound much louder."
He added, "The sound waves are refracted back to the surface and reverberate in ways that we normally do not experience as they bounce between the surface and the inversion near the base of the clouds."
Other residents commented from across the Poconos:
"My kids and I heard the sound in Saw Creek," said Winnie Michaluk. "Our windows rattled and our dogs were barking like crazy."
Russo Albuja of Tobyhanna said,
"I was driving along 196 on my way home from work when I felt the BOOM. It was so extreme, my car shook and on my left hand side on an empty field - all I saw was this HUGE flash of light coming from where the airport location would be at.
Afterwards, I heard nothing. Kinda scared me that I rushed home and locked my doors."
Katee McCarthy said, "Felt it here in the Tannersville area. Quite scary." As of 11 p.m., she reported lightning and sleet in the area.
Tim Aziz said, "Just heard something at 10:35 in East Stroudsburg, the whole house vibrated!"
" Yes I heard the boom, but thought it was just thunder!" said Pete Howey of Snydersville. That was the same reaction of Rosalie Ems, who said, "We heard it; just thought it was thunder rolling in with cold air against the warm air?"
Some more comments from our readers:
Elisabeth Foster Marshall: "Yes we did, here in Snydersville. My husband said right after "what the hell was that?!" he thought it was the furnace exploding...."
Jessica Gomez of Albrightsville: "We definitely heard it and felt it! It shook the whole house. What was it?"
Samantha Chevalier of Effort: "I definitely heard a loud noise and then my whole house shook, my dogs went crazy, and I smiled. I love thunder and lightning!"
Pamela Dunbar: "We live in Bushkill by Timothy Lake Resort, and we heard the boom. My granddaughter came out of her room and said, 'Was that thunder?' It sounded like a bunch of huge trucks barreling down the road."
James Arnold: "We live in Tobyhanna and we felt it, too. We thought it was a storm starting and shut down all our electronics. Our whole house vibrated."
Jennifer Knarr of Milford chimed in: "My husband and I were in bed watching tv when we heard this rumbling noise we thought it was thunder but it lasted a while he even got up to look outside no storms at that time here. We live in Milford on top of a mountain, sounded like a bunch of semi trucks going down our quiet street!"
Laura Bush: "Yes, I felt it here in Sciota. I immediately texted my kids in their rooms, 'What the heck was that.' One said, 'I don't know, earthquake?'"
JudyAnn Porter: " I live in Pocono Farms Country Club and my family and I were sitting watching TV and felt a loud bang and the house shook. We thought it was a earthquake. We got our supplies together but heard nothing else after that. Someone mentioned thunder, but thunder doesn't shake houses. Scary."
Phillip Mangat: "Yeah around 10:35 I thought another meth lab went boom!!!"
Jill Nobles: "It sure felt like an explosion or an earthquake to me. I am up near Wooddale, by Analomink on the top of the mountain.
At 10:12-ish, my whole house shook. It knocked things off of the counters, rattled things hanging on my walls, and shook my whole house violently.
We didn't sustain any damage, but the noise and the shaking were crazy. The sound was like an explosion, or a freight train in my bedroom. Not thunder."
And another from Long Pond "I live in Emerald Lakes and at about 10:15p.m. I heard a loud noise and the house shook for about 5 seconds and my lights dimmed a little bit."