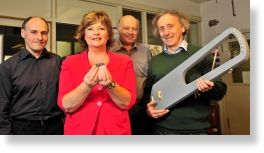 One of the earliest stringed instrument ever found in Western Europe - dating to more than 2,300 years ago - has been discovered at an excavation on the Isle of Skye. Scottish Government Cabinet Secretary for Culture Fiona Hyslop has revealed the small wooden fragment that it is believed comes from a lyre. It has been burnt and broken, but the notches where strings would have been placed are easy to distinguish on the artefact.
Music archaeologists Graeme Lawson and John Purser studied the fragment which was discovered at High Pasture Cave, near the village of Torrin. Mr Lawson, of Cambridge Music-archaeological Research, said: "For Scotland - and indeed all of us in these islands - this is very much a step change. It pushes the history of complex music back more than a thousand years, into our darkest pre-history. And not only the history of music but more specifically of song and poetry, because that's what such instruments were very often used for.
"The earliest known lyres date from about 5,000 years ago, in what is now Iraq: and these were already complicated and finely-made structures. But here in Europe even Roman traces proved hard to locate. Pictures, maybe: but no actual remains."
He added: "But it's the location of the find that keeps amazing - and delighting - us. Here is an object which places the Hebrides, and by association the neighbouring mainlands, in a musical relationship not only with the rest of the Barbarian world but also with famous civilisations.
"It now becomes a world that was held together not just by technology and trade but also by something as ephemeral and wonderful as music and poetry and song."
Ms Hyslop was equally enthusiastic.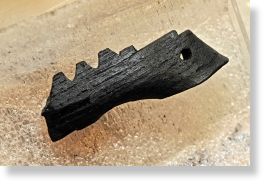 She said: "This is an incredible find and it clearly demonstrates how our ancestors were using music and ritual in their lives. The evidence shows that Skye was a gathering place over generations and that it obviously had an important role to play in the celebration and ritual of life more than 2,000 years ago.
"A project like this brings so many organisations and individuals together. The site has revealed insights into the practises of people who continued to use the cave complex over a very long period.
"This find is exciting and shows the variety of expertise there is in archaeology. The skilled excavation team realised immediately that they had something special, the finds were then passed onto the laboratory and then specialists in musical traditions were able to support that initial realisation. All of it leading to today and us being able to unveil this replica of what the lyre would have looked like."
And Highland Council convener Sandy Park said: "The discovery of a fragment of the oldest stringed instrument in Western Europe, will not only put the Highlands of Scotland firmly on the musical map of ancient Europe but it will benefit tourism on the island immensely.
"I am looking forward to hearing the full results of this research which I am sure will be a major feature in the Highland Archaeology Festival seminar in October."