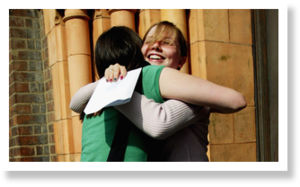 Matawan, NJ - The
new policy
at Matawan Aberdeen Middle School has many parents scratching their heads.
Last week, excessive hugging and physical contact by sixth and eighth graders prompted the principal to come on the loud speaker and declare a ban on hugging, according to published reports.
"It's stupid, I've never heard of such a thing. Why can't you hug?" one mother told 1010 WINS' Steve Sandberg. "That's how we grew up, with affection. You hug, you kiss."
"It's kind of silly," one man said. "When I was in middle school I hugged my friends - boys and girls. I don't know what the big deal is."
School officials could not be reached for comment.