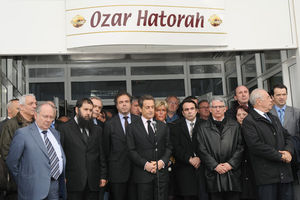 Three gun attacks which left seven people dead and two wounded have sparked a security alert in south-western France, with fears that the same killer could be at work.
In each case the attacker is said to have been
a gunman on a moped, using the same gun, striking in broad daylight.
All of the attacks took place within a radius of about 50km (30 miles), between the city of Toulouse and town of Montauban.
The first two shootings saw soldiers targeted but the third took place at a school.
What the victims have in common is that they belong to, or are associated with, ethnic or religious minorities - North African, Caribbean and Jewish.
That they were singled out is suggested by reports that, in at least one attack, the killer pushed aside a bystander to get to his victims.
A manhunt is under way and France has placed its national judicial police in charge of the investigation, with anti-terrorist investigators and specialists in serial crimes at its disposal.
While little has been reported about the identity or motivation of, in the words of
Le Figaro
newspaper, the "most wanted man in France", some of the strongest clues may have been left by the first attack.
Cyber trail
The same .45 calibre pistol was used in all three shootings, police sources told reporters.
On Sunday 11 March, Imad Ibn-Ziaten, a 30-year-old staff sergeant in the 1st Airborne Transportation Regiment, was shot dead around 16:00 (15:00 GMT) behind a school in a quiet district of Toulouse.
According to
Le Figaro
, Sgt Ibn-Ziaten, who was not in uniform, was unwittingly waiting for his own killer.
He had posted a small ad on a website to sell a Suzuki Bandit motorcycle, and the suspected gunman had arranged a meeting to see it.
The sergeant was found shot in the head, his motorcycle beside him.
French cyber police are working to extract clues from the two men's internet exchanges,
Le Figaro
says.
Sgt Ibn-Ziaten had a clean service record, prosecutors stressed, rejecting suggestions that there could have been a gangland element to his murder.
'Tattoo'
In the second attack, in Montauban on Thursday 15 March, 46 surveillance cameras picked up the gunman on his scooter, according to Le Figaro.
They showed "a man in dark clothing wearing a black helmet and riding a powerful moped". They also showed him using little-frequented side-streets, suggesting he knew the town well.
The CCTV footage available to investigators is said to include footage of the actual shooting, taken by the camera in the cash machine being used by the three soldiers the gunman attacked.
Two members of the 17th Airborne Combat Engineering Regiment, Corporal Abel Chennouf, 24, and Private Mohamed Legouad, 26, were killed. Both, like Sgt Ibn-Ziaten, were of North African origin.
A third paratrooper, 28-year-old Corporal Loic Liber from the French overseas region of Guadeloupe, was left in a coma.
There were numerous witnesses to the attack in Montauban, which occurred at around 14:00 outside a small shopping centre.
Before opening fire on the three unarmed, uniformed servicemen, the gunman reportedly moved aside an elderly woman, who was apparently also standing in line at the cash machine.
The killer was described as a small man who acted calmly, stopping to change the magazine of his pistol.
Witnesses described how he had turned over one of the wounded men who was trying to crawl away, and fired three more shots into him.
He was
someone obviously used to handling a gun
, a judicial source told AFP.
One witness, who described the killer as "of average height and quite fat", told French broadcaster RTL his helmet visor had been raised and she had seen his eyes and a tattoo or scar on his face.
In the same account, there was no indication of the killer's race.
'Everything he could see'
On Monday 19 March, a gunman on a moped attacked the Ozar Hatorah Jewish school in Toulouse, killing three children - aged three, six and 10 - and a 30-year-old religious education teacher.
A youth of 17 was injured. The victims' names were not available in the immediate aftermath of the attack.
After opening fire with a 9mm weapon, the gunman switched to his .45.
Interior Minister Claude Gueant told AFP there were "similarities" with the first two attacks.
"One can't fail to notice the similarities between the attacks on our troops in Toulouse and in Montauban and then this horrible attack on children this morning," he said.
In one respect, however, the third attack appears different: the gunman reportedly fired indiscriminatingly inside the school grounds.
"He shot at everything he could see, children and adults, and some children were chased into the school," prosecutor Michel Valet told reporters.
As a result of the attack, Prime Minister Francois Fillon ordered security to be tightened at all schools and religious buildings in France.
Earlier, security was tightened at military bases in the south-west.
Nazi scandal
French media have speculated whether the attacks could be terror-related - an Islamist act of revenge against French forces deployed in Afghanistan, for example.
However, just one of the soldiers had served in Afghanistan, and the attack on the Jewish school does not fit such a pattern.
The fact that none of the soldier victims had a criminal record, other than a speeding offence in one case, seems to undermine the theory of a gangland motive. Furthermore, the soldiers in Montauban did not know the sergeant killed in Toulouse, according to France TV Info.
Robbery is another theory which does not seem to hold water: neither the motorbike in the first shooting nor money in the second were taken, police sources said.
Another suggestion is that these are race hate attacks. Toulouse is home to large communities of both Jews and North African Muslims.
Some commentators have voiced fears that French society is being targeted by a lone extremist like Anders Behring Breivik, who carried out attacks in Norway last summer.
"This event made me think immediately about the Oslo massacre last summer, the act of revenge on society of one isolated extremist," wrote Pierre Haski on the Rue89 news website.
In 2008, a scandal erupted over the 17th Airborne Combat Engineering Regiment when photos appeared of three paratroopers making Hitler salutes and posing with a Nazi flag.
Two soldiers were thrown out of the army as a result while the third had already resigned, the regional newspaper
La Depeche
reported.
The news magazine
Le Point
said police believed there might be a link between the shootings and the soldiers dismissed.
"This lead is being actively followed up by both civilian and military authorities," the magazine said. There was no official comment on the report.
All of the theories remain speculation for now.