States of emergency were in force Tuesday in four Louisiana parishes after torrential rain left homes and roads under several feet of water. Hundreds fled their homes and dozens of motorists had to be rescued.
Flooding closed the major highway through St. Landry Parish, and many roads across the four parishes remained closed on Tuesday.
"In my 28 years in law enforcement I have never seen the interstate closed," St. Landry Sheriff's Capt. Jimmy Darbonne told weather.com.
Dozens of homes in Carencro, a town in Lafayette Parish, were evacuated on Monday when some 15 inches of rain fell within five hours.
"We had up to 7 feet of water on some streets," said Capt. Kip Judice, the local sheriff's spokesman. "We had no deaths or injuries but a lot of near calls."
Anais Guilbeau, 93, was rescued from her flooded home by boat. "I lost everything," the
Lafayette Daily Advertiser
quoted her as saying. "Everything is underwater. It was bad one time," she said of her six decades of living there, "but not this bad."
About 100 Carencro residents took refuge Monday evening at a Red Cross shelter, and several area schools were closed Tuesday.
Carencro flood images via NBC33TV.com
Louisiana State Police Sgt. E.J. Chesne had to rescue his own dog. "My dog was in his cage, just floating around," Chesne told the Advertiser of his return home Monday. "All the floors are buckled in the house."
Flooding also hit Acadia and St. Martin parishes.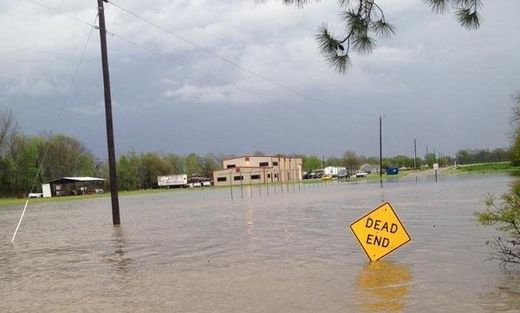 "Essentially, you saw about one quarter of a year's worth of rainfall fall within about five hours," The Baton Rouge Advocate quoted Mike Marcotte, a National Weather Service forecaster, as saying. "I'm sure the people that were involved in this will remember and they should remember because it's going to be something that won't be repeated for a long time to come."
And while 15 inches in five hours is a lot by any standard, it's still far short of any record. A foot of rain fell in 43 minutes in Holt, Mo., in 1947, according to the World Meteorological Association.