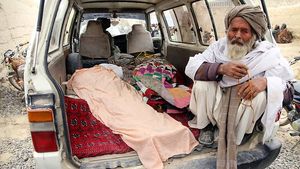 A US soldier shot dead 16 civilians including nine children in southern Kandahar province, Afghan officials said.
One Afghan father who said his children were killed in the shooting spree accused soldiers of later burning the bodies.
The US embassy in Kabul said an American soldier had been detained over the shooting. It added that anti-US reprisals were possible following the killings, which come just weeks after US soldiers burned copies of the Koran at a NATO base, triggering widespread anti-Western protests.
Afghan President Hamid Karzai condemned the rampage as "intentional murders" and demanded an explanation from the US. His office said the dead included nine children and three women.
An Afghan minister earlier told Reuters that a lone US soldier had killed up to 16 people when he burst into homes in villages near his base in the middle of the night.
Panjwayi district is about 35 km (22 miles) west of the provincial capital Kandahar city. The district is considered the spiritual home of the Taliban and is believed to be a hive of insurgent activity.
Haji Samad said 11 of his relatives were killed in one house, including his children. Pictures showed blood-splattered walls where the children were killed.
"They (Americans)
poured chemicals over their dead bodies and burned them
," a weeping Samad told Reuters at the scene.
"I saw that all 11 of my relatives were killed, including my children and grandchildren," said Samad, who had left the home a day earlier.
Neighbours said they awoke to crackling gunfire from American soldiers, whom they described as
laughing and drunk
.
"They were all drunk and shooting all over the place," said neighbour Agha Lala, who visited one of the homes where the incident took place. "Their bodies were riddled with bullets."
The incident, one of the worst of its kind since the US-led invasion of Afghanistan in 2001, is likely to deepen the divide between Washington and Kabul.
The Afghan Taliban would take revenge for the deaths, the group said in an emailed statement to media.
White House concerns
The White House on Sunday expressed its concern over the reported shootings.
"We are deeply concerned by the initial reports of this incident and are monitoring the situation closely," said White House National Security Council spokeswoman Caitlin Hayden.
Only one US soldier appears to have been involved in Sunday's shooting of Afghan civilians, a US official said.
A senior US defense official said Defense Secretary Leon Panetta "was deeply saddened to hear last night of this incident and is closely monitoring reports out of Afghanistan."
Senior Republican and Democratic senators called the situation tragic but said it should not change US policy in Afghanistan.
"I think we're on the right track to get out just as soon as we can," Senate Majority Leader Harry Reid said on CNN's "State of the Union."
"I think our timetable is pretty good for moving out as the president said and I think it's the right thing to do."
Reid said the soldier's actions were "absolutely wrong" and that it was "very sad, especially following that incident dealing with the Koran," referring to the incident in which US troops burned copies of Islam's holy book at a base in Afghanistan last month.
Republican senators John McCain and Lindsey Graham also said the incident should not be used as a reason to speed up the timeline for removing troops from Afghanistan while condemning the soldier's actions.
"I understand the anger and the sorrow," McCain, the senior Republican on the Senate Armed Services Committee, said Fox News Sunday.
"I also understand that we should not forget that the attacks on the United States of America on 9/11 originated in Afghanistan and if Afghanistan dissolved into a situation where the Taliban were able to take over or a chaotic situation it could easily return to an al Qaeda base for attacks on the United States of America."
Graham said he was confident the soldier will be brought to justice.
"This is tragic and will be investigated," Graham said on ABC's
This Week
. "Unfortunately, these things happen in war."
Conservative Republican presidential candidate Newt Gingrich voiced a very different view of the US role, saying Washington should consider pulling out of Afghanistan and reconsider its role in the entire region.
"There's something profoundly wrong with the way we're approaching the whole region and I think it's going to get substantially worse, not better. And I think that we're risking the lives of young men and women in a mission that may frankly not be doable," Gingrich said on Fox News Sunday.
Gingrich is battling front-runner Mitt Romney and second place Rick Santorum to be selected as the party's nominee to face President Barack Obama in the November election.
Source: Reuters