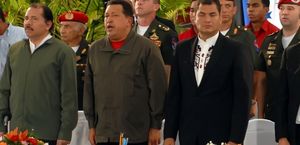 The "socialist bank" will give loans with no conditions, Ortega says
Bad credit? No credit? No problem!
President Daniel Ortega is putting on his banker's visor and taking time off from denouncing the evils of savage capitalism to try to raise startup capital for the newly announced Bank of ALBA, or BALBA.
The president-turned banking booster told Nicaraguans last night that he'd feel a lot better if Nicaragua took some of its $1.7 billion in international reserves out of established banks around the world and put it the trusted care of BALBA, which is almost one week old.
The birth of BALBA was celebrated during last weekend's summit of ALBA nations in Venezuela. The idea is that each member country - Venezuela, Cuba, Nicaragua, Ecuador, Bolivia, Dominica, Antigua and Barbuda and Saint Vincent and the Grenadines - support the bank to the tune of what each economy can afford.
In Nicaragua's case, the country is expected to cough up 1% of its international reserves, whose purse strings are controlled exclusively by the autonomous Central Bank. Ortega is also asking the Sandinista-controlled National Assembly to pony up $4 million for the ALBA bank.
Ortega said Nicaragua's international reserves are currently just sitting in banks and not being put to good use through loans.
"The most we can say about the reserve banks is that they return us our money, but we can't make loans," he said.
Ortega said BALBA will give loans to member states
without any conditions
to pay for development and social projects - a lending practice that the president thinks will make the bank solid and viable.
"The Bank of ALBA gives us a lot of security because we are talking about a bank that is socialist and just, where we can go to ask for money for productive activities, for social projects, for land titling," said the self-styled banking lobbyist.
"This will allow us to have a bank that will not put any conditions (on lending)... this is good news because it will allow us to be in better conditions to confront this crisis," Ortega said.
Ortega said BALBA will also try to attract funds from wealthier nations, to give the bank even more liquidity.
The Sucre cometh
The push to form a joint banking venture is part of a greater plan for ALBA's financial integration, which will soon include the incorporation of a
common currency for commercial exchange known as the Sucre
, or more cumbersomely the Unified System for Regional Compensation.
Last weekend in Caracas, Ortega promised that Nicaragua would approve use of the Sucre in the coming weeks, now that he controls a supermajority in the National Assembly.
The Sucre is intended to replace the U.S. dollar as the currency for commercial exchanges between ALBA nations.
While Nicaragua's incorporation of the Sucre is just around the corner, few understand how it will work or what that will mean for the country's economy. The Sucre has already been used as a virtual currency in transactions between Ecuador and Venezuela, but questions remain in Nicaragua.
"I don't think that this will free exporting agencies from paying Nicaraguan exporters in dollars," says former Central Bank president Mario Arana. "But it could be used to facilitate buying and selling between agencies that so far are monopolizing commercial transactions" between Venezuela and Nicaragua.