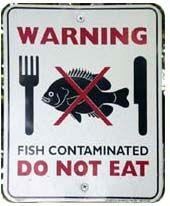 The Atomic Energy Authority (AEA) has detected fish consignments imported to Sri Lanka that were contaminated from radio active substances in the seas following the Fukushima nuclear catastrophe, AEA chairman Dr Ranjith Jayawardene said.
He told the
Daily News
that the AEA had been checking all imported fish consignments to Sri Lanka since the Fukushima incident to ensure these were safe for human consumption.
He noted that the AEA discovered salmon and other fish consignments which were slightly contaminated by radioactive substances last November and also last week during checks. The container load imported in November was released after a laboratory test to ensure that the level of radioactive substances is harmless for human consumption. This load included fish from the seas off China.
The fish consignment imported to the country last week has been retained by the Customs until a special laboratory test. The chairman said that the results of this test would be released within two days.
A special programmer to monitor radioactive substances in the seas off Sri Lanka has been commenced with the aid of the International Atomic Energy Authority (IAEA), Dr Jayawardene said.
He said that the programmer's intention is to analyze the impact on Sri Lankan seas from the radioactive leakage of the Kagoshima nuclear power plant last year.
Dr Jayawardene noted that during the leakage, radioactive contaminated water mixed with sea water contaminated the marine environment, posing a threat to aquatic life.
He noted that the AEA informed the IAEA about these incidents.
The IAEA had proposed to initiate a special programmer in the seas off 17 IAEA member states of the Asian Pacific region to monitor radioactive substances in sea water taking these facts into consideration.
The chairman said that the marine samples collected from 10 selected places within a one km distance from the shore would be checked for radioactive substances, specially for cesium 137. The programmer would be continued for the next two years.
Australian expert Ronald Szymborska of the IAEA arrived in Sri Lanka last week to provide guidance for this programmer. A special seminar was held for local experts in universities and NARA in this regard on Monday.