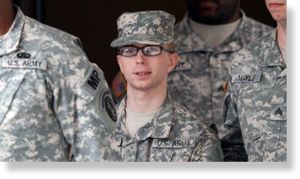 Army Pfc. Bradley Manning, accused of providing hundreds of thousands of classified military documents and state department cables to online publisher WikiLeaks, deferred entering a plea at his arraignment today.
Sitting in the Ft. Meade, Md., courtroom in his dress army greens and signature black-rimmed glasses, Manning had his civilian counsel, David Coombs, and his assigned military counsel by his side.
Although Manning sat in the same chair and courtroom as he did throughout his December pre-trial Article 32 hearing, this is the first time he has sat before a military judge, facing a court martial.
When Manning was asked how he would plead, Coombs replied on behalf of the former Army intelligence analyst. "PFC Manning would like to defer both on his plea and on motions," Coombs said.
Manning barely spoke throughout the arraignment, responding "yes, your honor" when asked by the military judge whether he understood the charges against him, including aiding the enemy, wrongfully causing intelligence to be published on the Internet, knowing that it is accessible to the enemy, stealing public property or records and transmitting defense information.
Coombs also deferred selection of the kind of forum in which Manning is to be tried.
Manning has the option to be tried before a military judge alone, a panel of members, which is the military equivalent of a jury made up of officers, or a member panel made up of one-third enlisted soldiers.
The default selection would be a panel with enlisted soldiers to protect the accused, according to a legal military expert, adding that deferring the forum selection and plea is often done for tactical reasons. The plea can be entered anytime before the start of the trial.
The trial date is left to the military judge to determine. But the defense objected to any delay past their requested date of June, saying it would violate Manning's "due process rights."
"As of today, PFC Manning has been in pretrial confinement of 635 days," Coombs said.
"If government gets its way," with a requested trial start date of Aug. 3, Manning would have spent "over 800 days before trial begins" in pre-trial confinement," he added.
Unlike during the December Article 32 hearings, Coombs did not challenge Military Judge Col Denise Linds' proceeding over the hearing; although he did cast multiple questions toward the military judge about her pre-existing knowledge of the case and possible conflicts of interest.
The majority of the 45-minute hearing dealt with an alleged government "spillage," in which the defense submitted a motion containing classified material through an unclassified system, as well as other filings of motions.
Manning is next expected before the court March 15-16 to address multiple motions that have been submitted by both the government and defense.
If the 24-year-old is convicted, he faces life in prison, as well as a reduction in rank to the lowest enlisted pay grade, total forfeiture of all pay and allowances and a dishonorable discharge.