Fight among several costumed figures erupts in front of the Kodak Theatre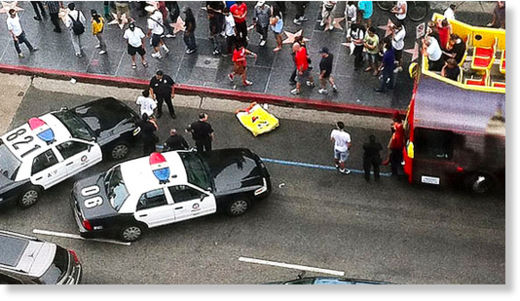 A brawl among several costumed figures erupted in front of the Kodak Theatre in Hollywood on Thursday evening, resulting in a Jack Sparrow character being pepper-sprayed, according to Los Angeles police.
The Jack Sparrow character was treated for minor injuries in the fight that reportedly included Cat Woman, an alien and a second pirate.
Cat Woman, the alien and the pirate fled following the free-for-all that played out in front of tourists on busy Hollywood Boulevard.
The incident was the latest run-in between characters who pose for pictures with tourists and then aggressively demand money.
In September, a man dressed as SpongeBob SquarePants was detained by police outside Grauman's Chinese Theatre in Hollywood after an altercation with two women.
In another incident, Spider-Man was led away in handcuffs.
Police officials acknowledge that maintaining peace in the area has been challenging.
City rules allow people to tip characters, but prohibit them from demanding payment.
Source: KTLA