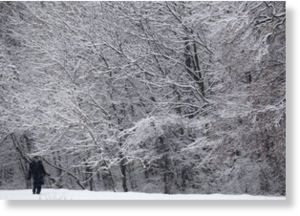 The Balkans and parts of eastern and central Europe were hit hard by heavy snow Thursday, forcing Romania's prime minister to call in army tanks to clear roads and leaving a hundred communities in Bulgaria without power.
For two days blizzards have covered the area with as much as three meters (10 feet) of snow at a time.
Snow in Romania left hundreds of people stranded in cars, forced the cancellation of flights and appeared to derail a train. Some 340 people were evacuated overnight from stranded vehicles on scores of roads across the country, Prime Minister Emil Boc said.
A train with 123 passengers derailed on icy tracks in southern Romania, but nobody was injured. Ten flights to and from Bucharest were canceled Wednesday night, and planes arriving from Dubai, Tel Aviv and Munich were diverted to other airports.
Snowstorms also swept through neighboring Bulgaria, causing traffic chaos and blanketing villages in the northern parts of the country. The harsh weather has left more than 100 communities across the country without electricity.
Bulgaria's main Black Sea port of Varna was closed for traffic due to wind storms and heavy snowfall, port officials said.
Heavy snowfall created hazardous driving conditions along icy mountain roads and forced authorities to close several mountain passes. Classes have been canceled in many schools in the snow-gripped regions.