Obama's signing of National Defense Act target of latest demonstation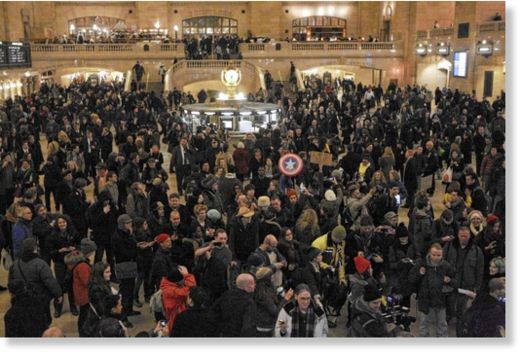 Three Occupy Wall Street protesters were arrested and two others given summonses after converging on Grand Central terminal Tuesday, an MTA spokeswoman said.
The group called a day of action, slamming President Obama's "treasonous" signing of the National Defense Authorization Act on New Year's Eve, according to an OWS spokesman.
A video uploaded to YouTube and posted on Twitter shows the rush hour flash mob.
Demonstrator Lauren DiGioia, 26, is seen being hauled off by four MTA police officers.
DiGioia was collared for disorderly conduct and resisting arrest, MTA spokeswoman Marjorie Anders said.
"It was a peaceful demonstration," Anders said. "It was loud, but it was peaceful."
About 200 people showed up for the 90-minute long protest, and summonses for disturbing the peace were given, Anders said.
Protesters participated in "black bagging" - an activist maneuver where black bags are placed over demonstrators' heads to simulate images seen from Abu Ghraib, Machet said.
"It's in reference to the detention that people face today," she said, "what our citizens are facing today."
Obama has come under fire in news blogs across the Internet
for the new defense act, which authorizes indefinite detention without trial of any person - including U.S. citizens who are considered an enemy of the state.
"It's a severe infringement of our rights on Habeas Corpus," said Jason Ahmadi, 27, who's been arrested four times while protesting. "It's very frightening."