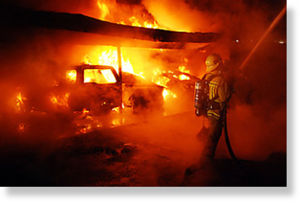 Troy Patruno drove his 2011 Volkswagen Eos convertible from his hometown of Las Vegas to Los Angeles to celebrate New Year's. He won't be able to drive it back. With only a few hours to go until midnight, Patruno was in his friend's living room in West Hollywood getting ready to go out when he heard his car alarm go off. He approached the kitchen window, looked out at the carport and saw a giant orange glow engulfing his car. Minutes later, there was nothing left but a melted frame. "It was a raging fire," said Patruno, 44, a retail manager. "I just had my hands on my head. I think I was in shock."
Patruno's car was one of 55 unsolved fires set around Los Angeles over the past four nights, the worst wave of arson since the 1992 riots. While most fires have occurred in Hollywood and West Hollywood, they have spread to a wider area including the San Fernando Valley and even an area near Los Angeles International airport. Almost all of them started with vehicles being set aflame, and some spread to apartment buildings. One blaze even damaged a home where
The Doors
' Jim Morrison once lived. So far, there have been no deaths or serious injuries.
The L.A.P.D. has put officers on the case from its homicide detective division and major crimes division, and has sent extra police from other divisions and helicopters to saturate the Hollywood area. Authorities are offering a combined reward of $60,000 for information leading to an arrest and conviction. Still, they have yet to figure out who's doing it. One "person of interest" was detained on Monday, and was expected to be booked on arson charges Monday afternoon, police officials said. They declined to give more details.
"Great question," L.A.P.D. spokeswoman Sarah Faden said when asked about possible motives for the fires. "We haven't received any sort of message, any sort of letter that might indicate why this is taking place. It's a very active search. Certainly the whole city is concerned and of course it's a top priority."
At first glance, the level of concern among the general public might not have been apparent on New Year's Eve, as a mass of partiers swaggered down Hollywood Boulevard and waited in line for expensive clubs as they would any other Dec. 31. But only blocks away, a car fire had erupted inside the parking structure of the Hollywood & Highland mall, other blazes shot up across the city, and fire trucks speeding down the streets became a common sight.
The next day, the chatter on the street was all about the mysterious arsonist. Neighbors in West Hollywood came to survey the damage, and even joggers took detours on their routes to see what had happened. "I can't believe this is happening in WeHo," said Matt Molchen, a 34-year-old comic, using the popular term for West Hollywood. "I mean, we moved here because it was safe." He was surveying a charred carport and driveway a block away from his house that had gone up in flames the night before. The area still smelled strongly of burnt material as the apartment building manager was shooing away a local news truck. "They've got to get this guy," Molchen said. "They've got to put a stop to this."
Mark Hopper, 54, had just gotten out of the shower in his West Hollywood apartment on New Year's Eve when he heard several explosions and someone yelling about a fire. When he stepped outside, he saw flames two stories high swallowing up the parking garage next to his car. Hopper, who works on special effects in the film industry, ran to his car and drove it to safety before the structure was all but obliterated. Soon, firefighters and the bomb squad arrived. After being evacuated from the building for hours and returning to find his apartment floor covered in soot, he decided to abandon his New Year's plans and uncork a bottle of champagne at home. "People could've really been hurt," he said.
A couple blocks away, Eva, the owner of an apartment building who declined to give her last name, was standing on the street on New Year's Day watching for any suspicious activity. She was still spooked after she had been roused from sleep by a call in the middle of the night, three nights before, informing her that her building was on fire. "I can't sleep anymore," she said. "You get petrified." The green side of her building above its garage was burnt black, and a scorched VW Bug still sat in a pile of ash in a parking space. On the night of the fire, the apartments above had filled up with smoke, and the garage below had flooded after pipes melted and burst. "How is it possible they haven't found him yet?" Eva asked. "This is a vicious, vicious arsonist."