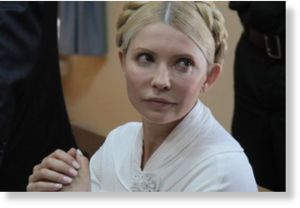 The office of Ukraine's prosecutor general has announced there is "irrefutable evidence" that former Prime Minister Yulia Tymoshenko was involved in the murder of a Ukrainian lawmaker in the 1990s.
"Money has been transferred to the killers' bank accounts from firms owned by [former Prime Minister Pavel] Lazarenko and Tymoshenko," Russian news agency Ria Novosti quoted first deputy Chairman of the Prosecutor General's office Renat Kuzmin as saying on Saturday.
The Ukrainian Prosecutor General's Office previously said it was examining Tymoshenko's possible involvement in Yevgeny Shcherban's murder case.
Tymoshenko's spokeswoman Natalia Lysova has dismissed the accusations as "rubbish."
In November 1996, Shcherban, a member of Supreme Rada (Ukraine's Parliament) and chairman of the financial corporation Anton, was shot and killed along with his wife and an airport employee at the airport in the eastern Ukrainian city of Donetsk.
Lazarenko, who was Tymoshenko's ally and served as Ukraine's prime minister in 1996-1997, has been charged with ordering the murder. He is currently imprisoned in the United States on charges of money laundering.
In October, a Ukrainian court sentenced Tymoshenko, who is Ukraine's leading opposition figure, to seven years in prison and banned her from political activities for three years over charges of abusing her power in signing a gas deal with Russia in 2009.
Tymoshenko has denied the allegations, saying the charges against her were politically motivated and that Ukraine has returned to the dark days of Stalin's rule.