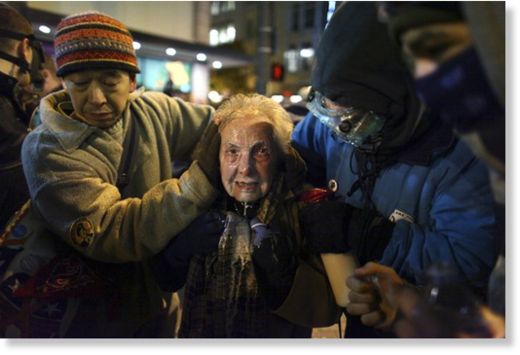 A downtown march and rally in support of the Occupy Wall Street movement turned briefly chaotic as police scattered a crowd of rowdy protesters - including a pregnant 19-year-old and an 84-year-old activist - with blasts of pepper spray.
Protest organizers denounced the use of force, saying that police indiscriminately sprayed the chemical irritant at peaceful protesters.
The Occupy Seattle movement released a written statement late Tuesday expressing support for "a 4-foot 10-inch, 84-year-old woman, a priest and a pregnant woman who as of this writing is still in the hospital."
Dorli Rainey is an activist who has supported liberal causes in the Seattle area for decades. A photo showing Rainey being cared for by fellow activists in the immediate aftermath of the police incident appeared on news websites around the world.
Seattle police spokesman Jeff Kappel said he didn't have specifics on the Rainey incident, but he said pepper spray is "is not age specific. No more dangerous to someone who is 10 or someone who is 80."
He added, that if it were harmful, "we probably wouldn't be using pepper spray if that was the case."
Kappel said police had not yet established whether a pregnant woman was involved.
Paramedics examined a handful of people, including a 19-year-old woman who was three-months pregnant, Seattle fire department spokesman Kyle Moore said. The
Seattle Times
reported on its website that the woman was taken by ambulance to Harborview Medical Center.
Her identity and status were not immediately available.
Moore added that the protester's own medical response team had taken care of others.
"These protesters are well organized, they're using homemade remedies to counter pepper spray," he said.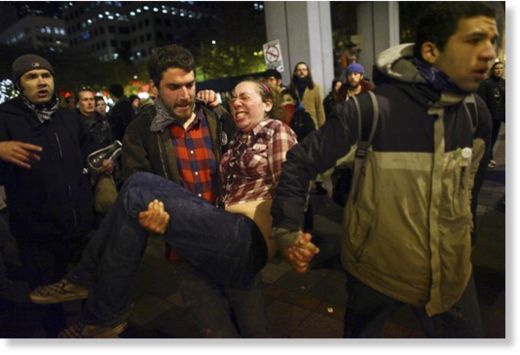 Seattle police said plenty of verbal warnings were given to demonstrators attempting to block intersections and streets during rush hour.
"Pepper spray was deployed only against subjects who were either refusing a lawful order to disperse or engaging in assaultive behavior toward officers," Kappel wrote on the department's blog.
Kappel also noted that one man threw an "unknown liquid" at an officer's face and was arrested. The officer was not injured.
In another incident, Kappel said a 17-year-old woman swung a stick at an officer, and as police moved to arrest her, others tried to intervene on her behalf, prompting a blast of pepper spray.
Authorities arrested at least six people before quickly restoring order.
Occupy Seattle organizers said the downtown march was in solidarity with other Occupy Wall Street protests around the nation.
The skirmish Tuesday was the first clash in weeks.
Occupy Seattle moved its encampment to Seattle Central Community College late October. Before that, the group had been camping at Westlake Park, leading to tense standoffs with police and dozens of arrests.