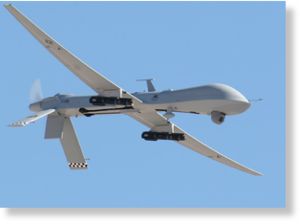 Pakistani intelligence officials say suspected U.S. unmanned aircraft fired six missiles at a vehicle near the Afghan border, killing six alleged militants.
The officials say Sunday's attack occurred in the Datta Khel area of the North Waziristan tribal region. A house was also partly destroyed.
The officials spoke on condition of anonymity because they were not authorized to talk to the media.
The identities of the suspected militants killed in the strike were unknown.
The U.S. has carried out many drone strikes in the past in Datta Khel, killing both Pakistani and Afghan Taliban fighters.
The U.S. refuses to acknowledge the CIA-run drone program in Pakistan publicly, but officials often laud the strikes in private.
Source: The Canadian Press