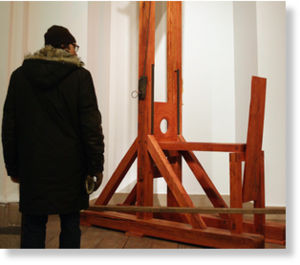 A Washington man loses his arm from a homemade guillotine.
The guillotine unexpectedly dropped on his shoulder Thursday morning at a camp he was living at, severing his arm.
He left the arm behind after the accident and rushed to Bellingham Urology Specialists.
Evelyn Leuther, who works at the clinic, told CBS Seattle a woman passing by said, "I hope that's a Halloween costume," referring to the man missing his arm at the shoulder.
But the gore was real. Seconds later, another woman ran by screaming for someone to call 9-1-1.
Doctors and nurses from the office rushed to help.
"It was a sight," she said. The scene lasted for 10 minutes before an ambulance took him to the hospital two blocks away.
Officers checked a wooded area near the clinic and discovered a camp believed to be the temporary home of the individual. At the camp, officers located the severed arm and a homemade guillotine, which the police then dismantled.
The condition of the victim is not known at this time, but Bellingham police said in a release he was being transferred to Harborview in Seattle for further treatment.