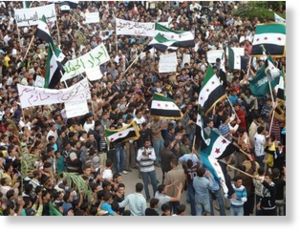 Syrian tanks pounded an old district in the city of Homs on Saturday and three people were killed, activists said, after one of the bloodiest days of the seven-month-old uprising against President Bashar al-Assad.
Activists and residents said Syrian forces shot dead 40 civilians on Friday when they fired on demonstrators calling for international protection from Assad's crackdown.
The Arab League and United Nations condemned the violence.
U.N. Secretary-General Ban Ki-moon said Assad must respond to demands for change with serious reform, "not repression and violence," and called for an immediate halt to military operations, his spokesman said.
One activist group said fierce fighting broke out in Homs on Friday night between dozens of army deserters and forces loyal to Assad. Seventeen soldiers were killed when the defectors attacked two security posts in the city, it said.
The report by the British-based Syrian Organization for Human Rights highlights the emerging element of armed insurgency alongside mainly peaceful street protests demanding an end to 41 years of Assad family rule.
The United Nations says 3,000 people, including nearly 200 children, have been killed in the unrest. Since the start of protests in March, Syrian authorities have blamed the violence on gunmen they say have killed 1,100 soldiers and police.
Syria has barred most international media, making it hard to verify accounts from activists and authorities.
But the resilience of the protesters, the determination of authorities to crush dissent and the growing ranks of defectors have combined to make Syria's turmoil one of the most intractable confrontations of this year's Arab uprisings.
The Syrian Observatory said three civilians were killed in Homs on Saturday morning, one shot by a sniper and two by machinegun fire between Assad's forces and defectors.
Residents said tanks fired anti-aircraft guns, which the military is using to hit ground targets, as well as machineguns in the old district of Bab Amro. Explosions and gunfire could also be heard in other neighborhoods, activists said.
Arab Demand
Friday's violence prompted Arab ministers to issue their strongest call yet on Assad to end the killing of civilians.
The Arab League's committee on the Syrian crisis said it had sent an "urgent message ... to the Syrian government expressing its severe discontent over the continued killing of Syrian civilians."
The committee "expressed the hope that the Syrian government would take action to protect civilians." Arab ministers are due to meet Syrian officials on Sunday in Qatar to press for dialogue between the government and opposition.
A source at Syria's Foreign Ministry, quoted by state media, said the Arab League statement was "based on media lies" and urged the committee to "help restore stability in Syria instead of stirring sedition."
Opposition figures have said they could not sit down for talks with the government unless there was a halt to the killing of protesters, disappearances and mass arrests.
"Three days left, and we have 220 martyrs and counting," read a placard carried by protesters near Damascus on Friday.
"Yes to dialogue -- after the downfall of the regime," said another in Homs.
Across the country, demonstrators called for international protection. "A no-fly zone is a legitimate demand for Homs," read banners in the Khalidiya district of Homs.
NATO air forces played a central role in the overthrow of Libyan leader Muammar Gaddafi, but the Western alliance has shown no appetite to intervene in Syria.
Syria's opposition National Council has called for international protection. It has not explicitly requested military intervention, although street protesters have increasingly voiced that demand.
Assad has not used his air force against protesters and a no-fly zone would have little impact on the crackdown unless, as in Libya, pilots attacked his ground forces and military bases.
The anti-Assad protesters have been energized by Gaddafi's death last week and activists said the city of Hama saw some of the biggest protests since Assad sent tanks and troops in July to seize it back from opposition control.
Demonstrations were forced into the countryside by the military assault on cities three months ago. They remain widespread but have not matched the size of earlier protests.
Authorities organized big pro-Assad demonstrations this week, with tens of thousands rallying in Damascus and the eastern town of Hasaka on Wednesday, and more pouring on to streets of the Mediterranean city of Latakia on Thursday. School children and public employees were ordered to attend.
Syria, a majority Sunni Muslim nation of 20 million people, is dominated by Assad's minority Alawite sect, an offshoot of Shi'ite Islam.
Aware of potentially seismic geopolitical implications if Assad were to fall, leaders in the mostly Sunni Arab world have been cautious about criticizing the Syrian president as they struggle with domestic challenges to their own rule.
Sunni ascendancy in Syria could affect Israel and shake up regional alliances. Assad strengthened ties with Shi'ite Iran while also upholding his father's policy of avoiding conflict with Israel on the occupied Golan Heights frontier.