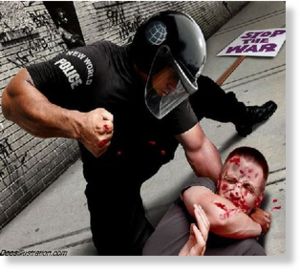 They're not even pretending anymore
.
A three-year investigation into the police's habit of fixing traffic and parking tickets in the Bronx ended in the unsealing of indictments on Friday and a stunning display of vitriol by hundreds of off-duty officers, who converged on the courthouse to applaud their accused colleagues and denounce their prosecution.

As 16 police officers were arraigned at State Supreme Court in the Bronx, incensed colleagues organized by their union cursed and taunted prosecutors and investigators, chanting "Down with the D.A." and "Ray Kelly, hypocrite."

As the defendants emerged from their morning court appearance, a swarm of officers formed a cordon in the hallway and clapped as they picked their way to the elevators. Members of the news media were prevented by court officers from walking down the hallway where more than 100 off-duty police officers had gathered outside the courtroom.

The assembled police officers blocked cameras from filming their colleagues, in one instance grabbing lenses and shoving television camera operators backward.
The unsealed indictments contained more than 1,600 criminal counts, the bulk of them misdemeanors having to do with making tickets disappear as favors for friends, relatives and others with clout. But they also outlined more serious crimes, related both to ticket-fixing and drugs, grand larceny and unrelated corruption. Four of the officers were charged with helping a man get away with assault....

Federal agents earlier in the week arrested eight current and former officers on accusations that they had brought illegal firearms, slot machines and black-market cigarettes into New York City. Recently, other officers have been charged in federal court with making false arrests, and there was testimony in a trial in Brooklyn that narcotics detectives planted drugs on innocent civilians.

Of the 16 officers arraigned on Friday, ranking as high as lieutenant, 11 were charged with crimes related to fixing tickets. All of them pleaded not guilty, and all but two were released without bail. Officer Ramos was held in $500,000 cash bail. Jennara Cobb, a lieutenant in the Internal Affairs Bureau, was released after posting a $20,000 bail bond. She was accused of leaking information about the investigation to other officers.
The inevitable union angle . . .
Prosecutors said the bulk of the vanished tickets were arranged by officials of the Patrolmen's Benevolent Association, the city's largest police union. All the officers charged with fixing tickets are either current or past union delegates or trustees.

As the investigation unfurled, the union played down its significance and consistently referred to ticket-fixing as "professional courtesy" inscribed in the police culture.

Patrick J. Lynch, the union president, said in a news conference that the officers had been arrested on something "accepted at all ranks for decades."
Well in that case . . .