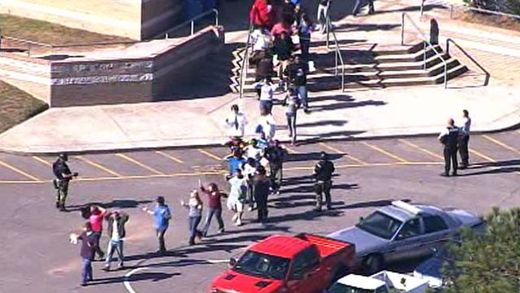 A school shooting in Cape Fear, N.C., has left one teen injured and two schools on lockdown while police hunt for a shooter this afternoon.
At least one student was shot and injured outside of Cape Fear High School, near Fayetteville, N.C., according to ABC News affiliate WTVD.
The girl, who is between 15 and 17 years old, was eating lunch outside a building on the school's campus just after 1 p.m. when the shooting occurred, police said. A manhunt is underway around the school for the gunman and to determine that the area is safe.
"No one has seen anyone on this campus with a gun," Cumberland County Sheriff Earl "Moose" Butler told WTVD.
Witnesses said they saw the teen fall to the ground, bleeding, but no one saw a gun, the report said. The teen was taken to a hospital.
Cumberland County Superintendent Dr. Franklin Till said that it was a normal, quiet lunch period when the incident happened. He said there was no suspicious activity prior to the shooting.
Cape Fear High School and nearby Mac Williams Middle School are on lockdown and officials say they will evacuate both schools once the campuses are secured.
Parents that gathered outside of the school to wait for their children told WTVD there was speculation about gang-related activity and an incident earlier this month that may have been related.
School officials and police, however, said that gang activity is not related to the shooting.