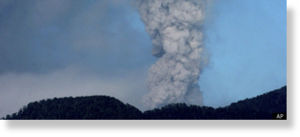 Airline officials say an ash cloud from a recently reawakened volcano in southern Chile has once again forced the cancellation of scores of flights in Argentina, Brazil, Chile and Uruguay.
In statements released Monday, Brazilian airlines Gol and Tam say the cloud from the Puyehue-Cordon Caulle volcano appeared Sunday. The volcano has been sporadically active since June.
The statements indicated that the problem is affecting airports in Rio de Janeiro, Sao Paulo, Buenos Aires, Argentina and Montevideo, Uruguay, and involves both domestic and international flights.
Argentine and Chilean airlines also announced interruptions in service.